Sharing some of my favorite apps and programs  that I use every day in my business!
Hi friends! How's the week going so far? We're hanging out over here – so glad to be done with the school hustle and bustle- and have quite a few appointments and things to do today. I have to take my car to get fixed (wah), head to the eye doctor (my eyes have been driving me crazy with the dry air and pollen), and getting some little goodies together for friends that are coming into town.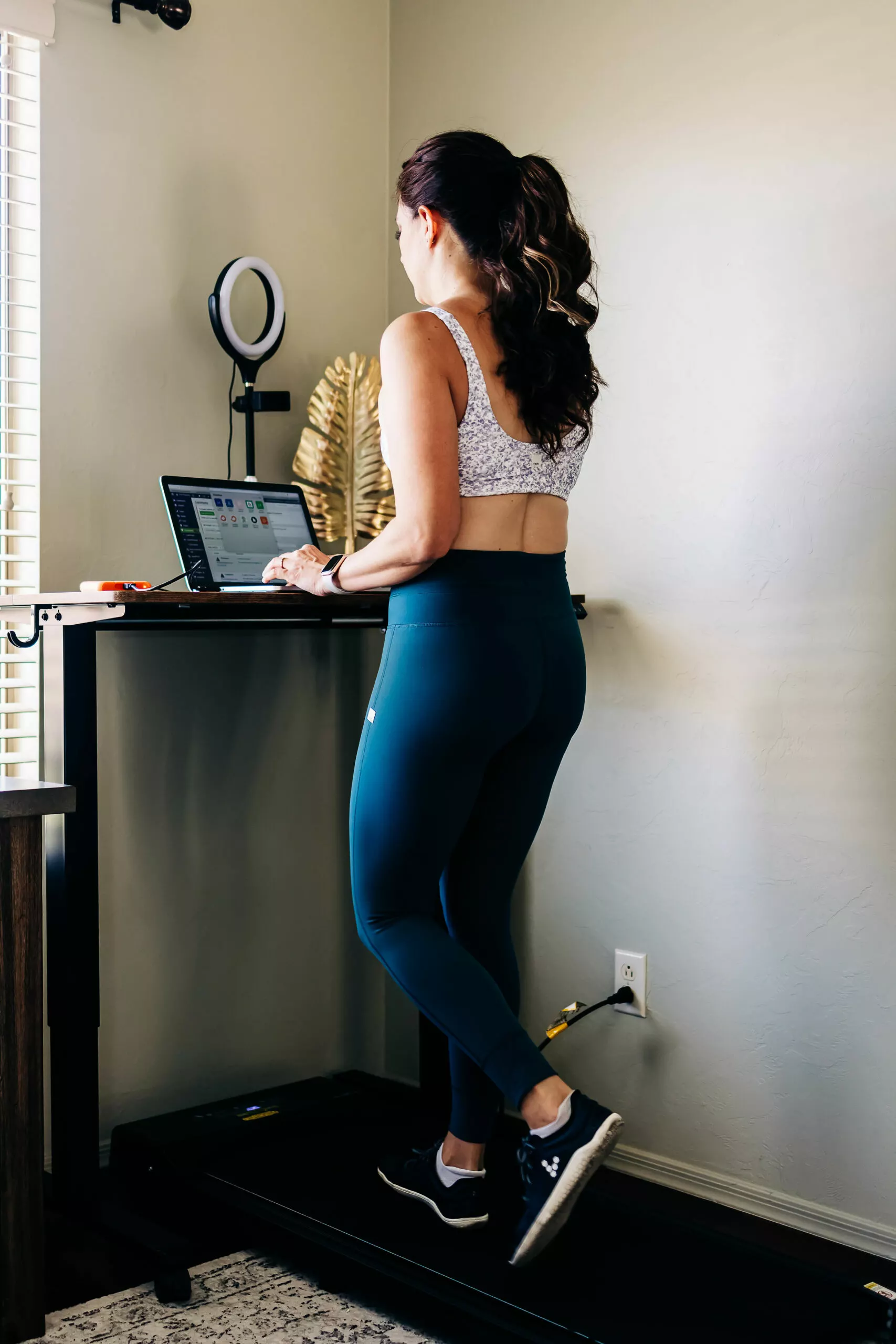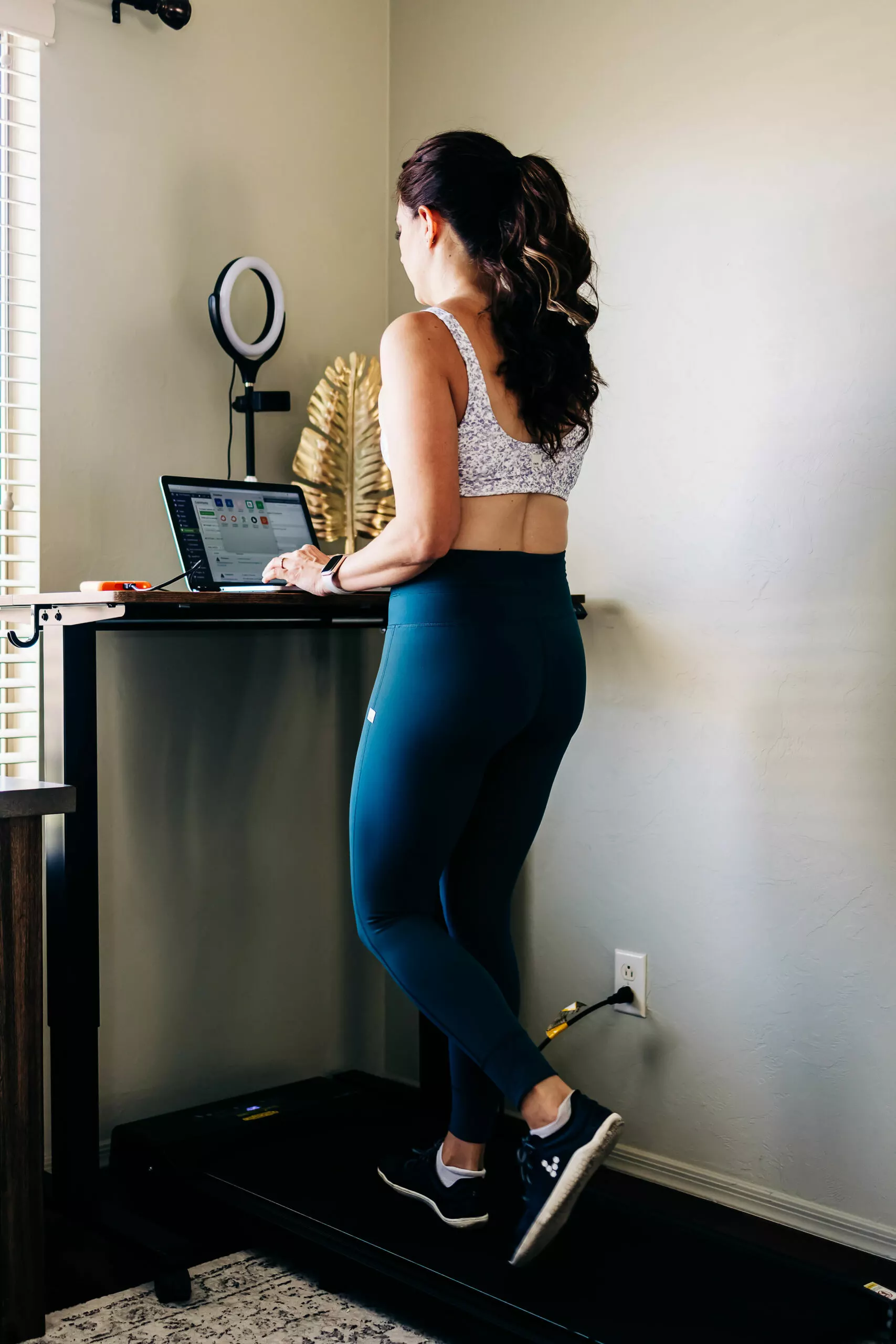 (my updated Work from Home setup is here! I now have an eye-level screen that has wireless connection to my computer so I don't have to look down. I can also use it to watch streaming service, internet content, and apps.)
For today's post, I wanted to share some of the apps and programs I use in my business. I've had some more requests for business and behind-the-scenes type posts, and quite a few of ya let me know that you enjoy when I pull the curtain back and share more about how things operate over here.
It's easy to think that writing a blog is simply adding some text and photos to a page… but it's a lot of unseen tasks and juggling. 90% of the work I do is all behind-the-scenes, from research, graphic design, crafting workouts and meal plans, filming content, taking photos, invoicing, emails, brand partnerships, Pinterest, email marketing, the list goes on and on.
There are quite a few tools that help me to stay on track and organized, and I thought I'd share some of my faves in this post! Many of these are helpful even if you don't work in the online world, especially Canva and Voxer.
Here are some of my go-tos!
Go-to apps and programs I use in my business
Canva
Canva is like having a magic wand for your creativity! It's a super fun and easy-to-use tool that lets you design stunning visuals without the need for any design skills. Whether you're a student, a social media enthusiast, or someone who just loves adding a little flair to their projects, Canva is your go-to. With its endless collection of templates, fonts, and images, you can create eye-catching graphics, personalized invitations, beautiful presentations, and so much more.
I'm NOT great at graphic design, but Canva makes it very easy. You can also use it to create beautiful invitations, gift tags, and printables for your fam. (Summer Chore Chart coming in 3….2….)
Leadpages
Leadpages is an incredible tool for entrepreneurs, marketers, and business owners who want to create high-converting landing pages, pop-ups, and sales funnels with ease. With its drag-and-drop interface and extensive library of customizable templates, Leadpages takes the guesswork out of designing and optimizing landing pages. Whether you're looking to capture leads, promote products, or grow your email list, Leadpages provides the tools and features you need to create compelling and visually stunning pages that drive results.
With seamless integration options, analytics, and A/B testing capabilities, you can track your performance and make data-driven decisions to continually improve your conversions. Say goodbye to the days of hiring expensive web designers or struggling with complex coding—Leadpages empowers you to create professional-looking pages that effortlessly convert visitors into loyal customers.
I've used Leadpages for many years, and while it's on the pricey side, it's easy to use and I find that it's my go-to when I want to create a simple landing page. I made this landing page on Leadpages for our Summer Challenge! We start on Monday if you want to join!!
Kajabi
Kajabi is a game-changing all-in-one platform that empowers content creators, educators, and entrepreneurs to build and grow their online businesses with ease. It provides a comprehensive suite of tools and features designed to streamline your entire digital business ecosystem. From creating and hosting online courses, membership sites, and coaching programs to managing marketing campaigns and sales funnels, Kajabi has it.
With its intuitive interface and user-friendly design, you can effortlessly customize your website, design beautiful landing pages, and deliver engaging content to your audience. Kajabi also offers powerful marketing automation, email marketing, and analytics tools, allowing you to nurture your leads, build meaningful relationships, and track your business performance. With Kajabi, you can focus on what you do best—sharing your expertise and growing your online business—while the platform takes care of the technical aspects, providing you with a seamless and professional online presence.
If you want to create a course or membership site, I highly recommend Kajabi. I use this platform for Fit Team – all of the workouts are bonuses are organized beautifully – and also for Total Body Reset and my new program that will launch this fall. You can use this link for 30 days free!
Voxer
Voxer is a dynamic and versatile communication tool that takes the concept of instant messaging to a whole new level. Combining the convenience of text messaging with the power of voice, Voxer allows users to send real-time voice messages, text messages, photos, and even share locations. It's like having a walkie-talkie in your pocket, enabling seamless and efficient communication with individuals or groups.
With Voxer, you can collaborate on projects, or simply stay connected with friends and loved ones. The ability to hear someone's voice adds a personal touch and brings conversations to life in a way that traditional text messaging can't. Whether you're using Voxer for work or personal purposes, it's a fantastic tool that enhances communication, fosters connection, and makes staying in touch a breeze.
I use Voxer for my 1:1 clients, with my team, and to catch up with friends! I'm super slow at typing on my phone, so it's much easier to send a quick voice message.
Asana
Asana is a game-changing project management tool that revolutionizes the way teams collaborate, organize, and track their work. With its intuitive interface and powerful features, Asana helps streamline workflows, improve productivity, and keep everyone on the same page.
From creating and assigning tasks to setting deadlines, attaching files, and tracking progress, Asana provides a centralized platform for teams to manage projects efficiently. Its user-friendly design and customizable project boards make it easy to visualize and prioritize tasks, ensuring that everyone knows what needs to be done and when. Asana also offers seamless integration with other popular tools, allowing for smooth collaboration and efficient information sharing. Whether you're working on a small team or managing complex projects with multiple stakeholders, Asana is a reliable and efficient tool that empowers teams to work together seamlessly and achieve their goals.
I use Asana with my team and it makes it super easy to keep track of upcoming blog posts, delegate tasks (like SEO and graphic design) and see what's in the pipeline.
So tell me, friends: what are your all-time favorite apps and programs that you use? They could be work-related or just for fun!
xo
Gina
#Goto #apps #programs #business