Trying to stick to your healthy eating goals, but craving something sweet and decadent? Superfood smoothies might be what you need.
Think of them as desserts that are loaded with nutrients — indulgent treats that can satisfy your sweet tooth while providing health-boosting benefits.
Here's why you should add superfood smoothies to your meal plan, and how to find your new favorite superfood smoothie recipe.
What Are Superfoods?
There are no official criteria for what constitutes a superfood, but the term typically refers to nutrient-dense foods that are particularly beneficial for health and wellbeing, says Krista Maguire, RDN, senior nutrition manager at BODi.
Superfoods can offer significant benefits through nutrients and compounds like vitamins, minerals, antioxidants, prebiotics, probiotics, fiber, phytonutrients, or healthy fats. Some well-known superfoods include berries, avocados, leafy greens, cruciferous veggies, legumes, whole grains, matcha, and dark chocolate.
You can add these powerhouse foods into your meal plan by whipping up a super green salad or superfood grain bowl. But if you're not a huge fan of veggies, treat yourself to a decadent superfood dessert instead.
Superfood smoothies are a grab-and-go option that can be ready in minutes, and they pack multiple superfoods into a frosty shake. What's not to love?
Of course, not every superfood is smoothie-worthy. (Save your salmon for these teriyaki bites instead.) But there are a few superfoods that work particularly well in smoothie recipes:
1. Raspberries and blueberries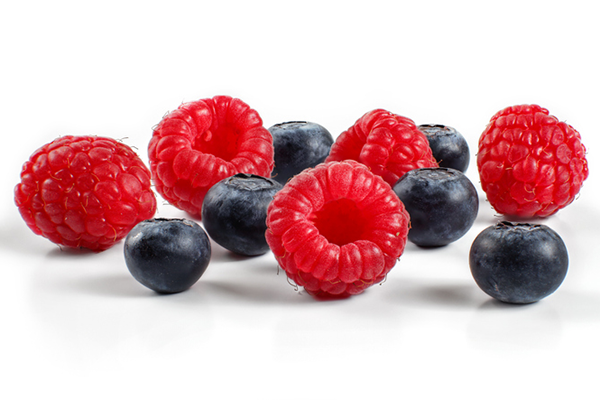 Berries add a perfect balance of sweet and tart flavor, and they're a great way to get more fiber in your diet.
"Raspberries contain 8 grams of fiber in just one cup, and they're an excellent source of antioxidants, including vitamin C," Maguire says. "Blueberries are also amazing and contain antioxidants, such as anthocyanins. They're chock-full of fiber, vitamins, and minerals in such a tiny package."
Berries are also lower in sugar than many other fruits. "Their low sugar and high fiber content make them wonderful foods to manage healthy blood sugar levels," Maguire adds.
2. Avocado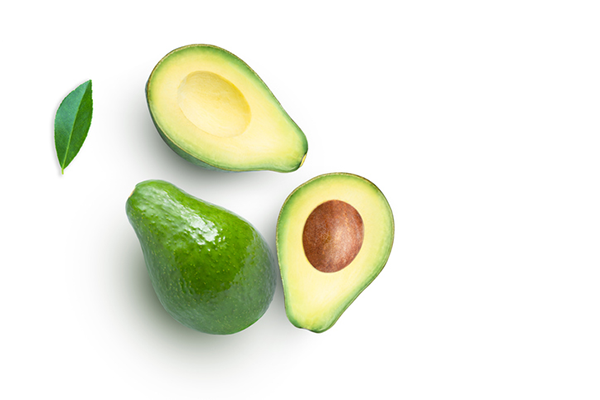 "Rich in monounsaturated fat, which is beneficial for heart health, avocado lends a smooth, buttery texture to a smoothie," Maguire says. "It also contains fiber and is an excellent source of vitamin C and potassium, an important mineral for heart, muscle, and nerve function."
And this superfood can even bump up the protein content in your smoothie — one avocado provides 4 grams of protein.
3. Oats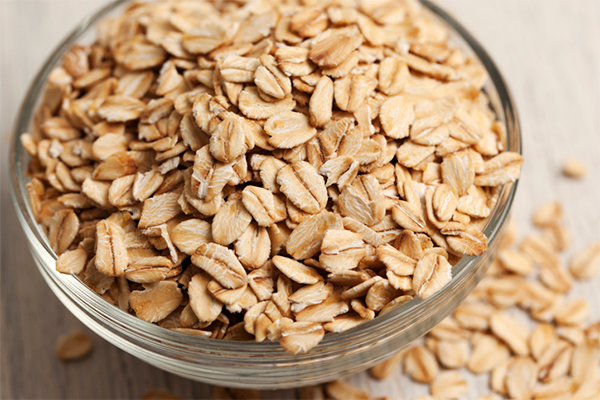 Oats can thicken your smoothie, making it heartier and more filling. But these whole grains are also uniquely beneficial for heart health.
"Oats are one of the few foods that have their very own approved health claim," Maguire says. "The FDA allows a heart health claim on whole-grain oats due to their high beta-glucan, a soluble fiber well-studied for its heart health benefits. This fiber also helps manage weight, maintain healthy blood sugar levels, and support digestive health."
4. Shakeology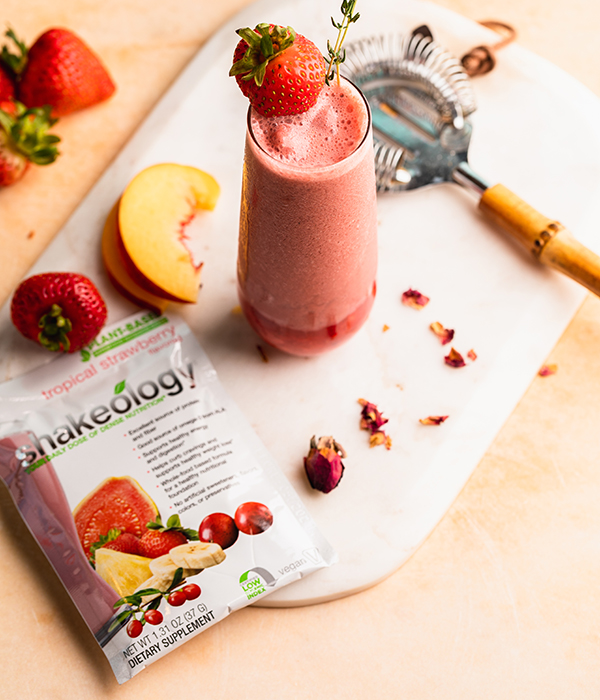 Adding a serving of Shakeology to your superfood smoothie recipe is an easy way to incorporate some superfoods you're not as likely to find at the supermarket — like bilberry, camu-camu, matcha, ashwagandha, reishi, and chaga.
Each serving of Shakeology provides a potent blend of protein, probiotics, antioxidants, vitamins, and more. And it makes your superfood smoothies instantly more craveable with flavors like Chocolate, Strawberry, and Cookies & Cream.
"Shakeology contains all of the original superfoods — adaptogenic mushrooms, superfruits, supergreens, prebiotics, and probiotics, as well as cacao and protein," Maguire says. "It's the whole package!"
Nutritional Benefits of Superfood Smoothies
If you need some more motivation to fire up your blender, here are a few ways your body can benefit from a daily superfood smoothie.
1. Energy
When you need a quick breakfast or afternoon pick-me-up, superfood smoothies can provide feel-good nutrition and energy.
"Healthy energy is simply energy coming from nutritious sources," Maguire says. "The ingredients used in Shakeology and superfood smoothies come from whole foods that are nutrient-dense and low-glycemic, meaning they are less likely to cause a spike in blood sugar and a subsequent dip — and thus provide sustained energy."
2. Weight loss and maintenance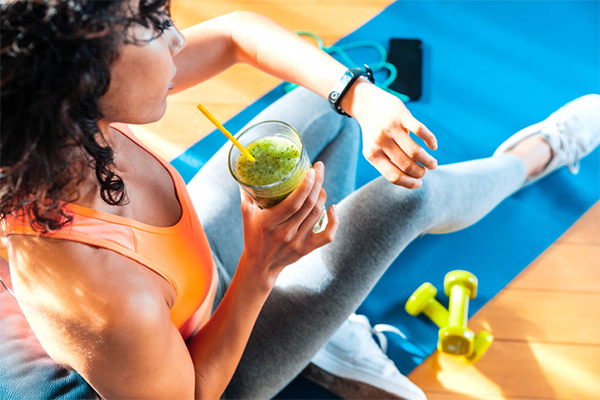 Superfood smoothies can support your weight loss goals by replacing traditional high-sugar and high-calorie desserts with a sweet treat that provides nutritional benefits. And adding a serving of Shakeology to your superfood smoothies can help to curb cravings and promote a feeling of satiety.
"Shakeology has been clinically studied to help reduce cravings and support healthy weight loss," Maguire says. "That benefit is largely due to the high protein and fiber, both of which help you feel full, so you tend to consume fewer calories overall."
3. Digestion
Many staple ingredients of superfood smoothies — like fruits, veggies, oats, nuts, and seeds — provide dietary fiber, which supports healthy digestion.
Want to boost the fiber content even more? "Shakeology contains 6 grams of soluble and insoluble fiber per serving, along with probiotics, prebiotics, and digestive enzymes — all of which are beneficial for digestive health," Maguire says.
4. Immune support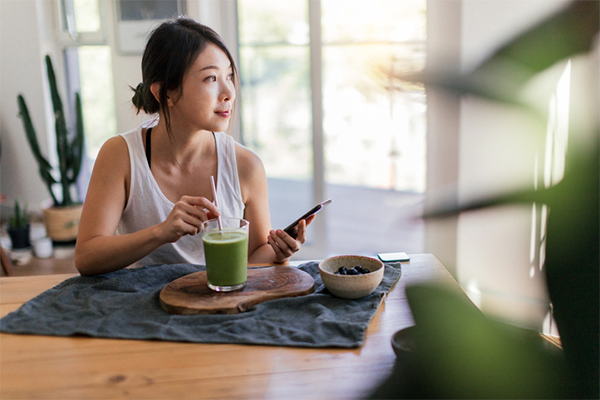 One more reason to include Shakeology in your superfood smoothie recipe: Some of its ingredients may help to support healthy immune function.
"Immune support is provided by the antioxidant properties found in ingredients such as camu camu and pomegranate," Maguire says. "And certain vitamins — some naturally found in plant-based formulas and some fortified in whey-based formulas — and minerals are essential for energy metabolism and immune function."
5. Health Esteem
Last but definitely not least, replacing your traditional dessert with a superfood shake is a healthy habit that feels indulgent, but also nourishes your body.
That simple swap can go a long way in boosting your Health Esteem, a philosophy that includes enjoying exercise for how it makes you feel — not how it makes you look — and focusing on eating more wholesome, nutritious food instead of relying on extreme diets that restrict and deprive.
Learn more about BODi, the first-ever Health Esteem platform.
How to Make Superfood Shakes and Desserts
If you want to make superfood smoothies part of your wellness routine, it's important to find a few go-to recipes you love, so you'll look forward to enjoying them each day.
If you're short on time, try blending a serving of Shakeology with a cup of water and some ice. This ridiculously simple superfood shake delivers powerful nutrition and superfood benefits.
But if you're feeling creative, your superfood smoothie recipe options are pretty much limitless. Here are six simple steps for creating a delicious, nutritious superfood smoothie:
1. Choose your base
For a thinner smoothie, use plain water or coconut water. For a thicker smoothie, try reduced-fat milk, unsweetened almond milk, unsweetened rice milk, unsweetened organic soy milk, or unsweetened coconut milk beverage.
2. Select a Shakeology flavor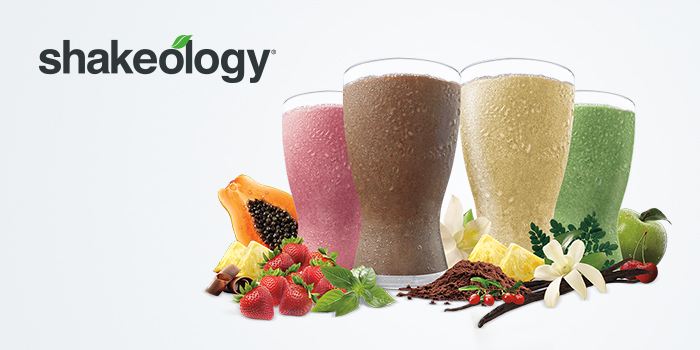 Consider this your shortcut for adding rich flavor and nourishing superfoods. Choose among the several Shakeology flavors:
3. Add protein
Each serving of Shakeology contributes up to 17 grams of protein to your superfood smoothie recipe, but you can add a little more by blending in reduced-fat Greek yogurt, organic silken tofu, or cottage cheese.
4. Add fruits and veggies
Amp up the flavor with fresh or frozen fruits. Berries and bananas are smoothie staples, but you can also try mixing in tropical fruits, melons, apples, or cherries.
Then sneak in some veggies — kale and spinach are popular options, but consider experimenting with beets, carrots, cucumbers, or beet greens. If you prefer a smoothie that doesn't taste too…green, opt for veggies with a mild flavor like zucchini or cauliflower. Plus, if they're frozen, these two powerhouse vegetables can also help thicken your smoothie!
Try this chocolate zucchini bread smoothie recipe, which hides a full cup of zucchini in a delectable chocolate shake!
5. Add healthy fats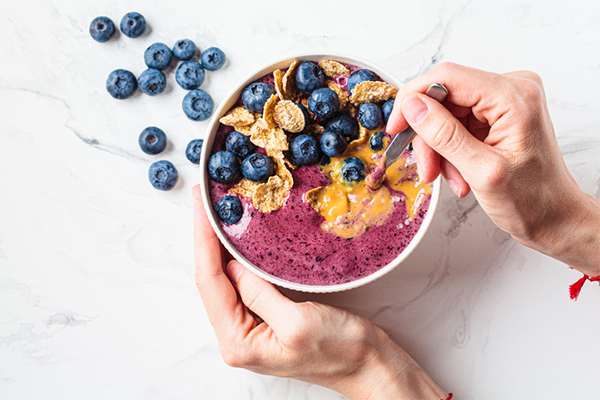 Healthy fats like avocado, nuts, seeds, nut butters, seed butters, or peanut butter can add even more flavor and help you feel fuller longer. (Just be sure to keep an eye on your portions.)
Even better, healthy fats can help you better absorb fat-soluble vitamins A, D, E, and K, along with phytonutrients such as lutein.
6. Add herbs, spices, or boosts
Put the finishing touch on your smoothie with optional add-ins like cinnamon, basil, mint, lemon, pumpkin pie spice, or a Shakeology Boost.
Superfood Smoothie Recipes
Need some superfood smoothie inspiration? Here are a few nutrient-packed recipes to get you started.
Strawberry Thunder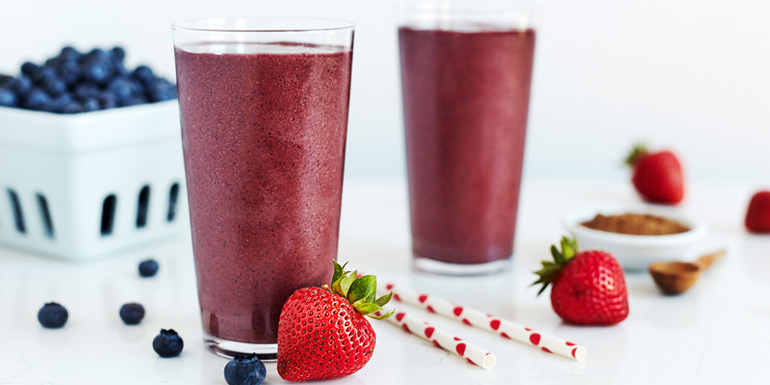 Get the decadent flavor of chocolate-covered berries, with all the superfood benefits of berries and Chocolate Shakeology. Bonus: This recipe can easily be converted into a smoothie bowl by using less water and topping it with fresh berries.
Berry Pink Shakeology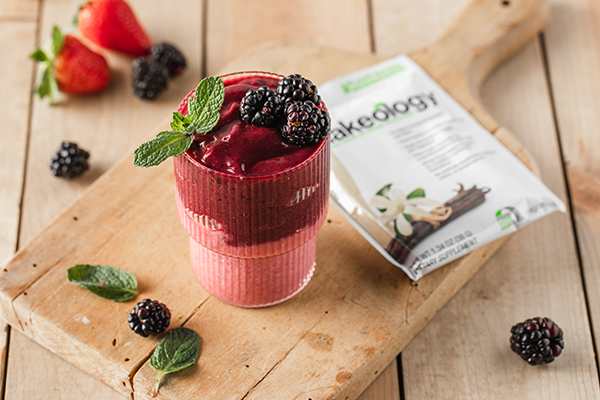 Packed with strawberries, blackberries, Greek yogurt, and Vanilla Shakeology, this two-hued pink superfood smoothie is almost too pretty to drink. (Almost.)
Power Latte Shakeology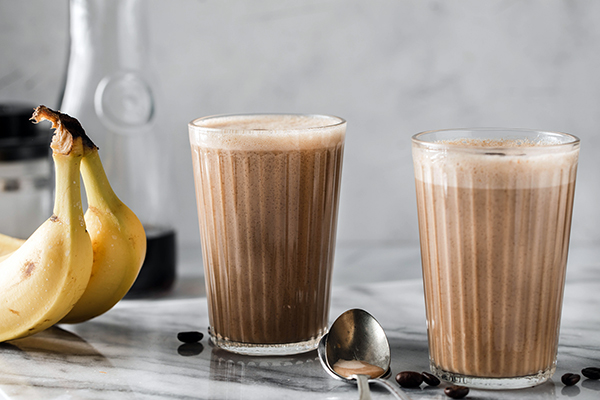 The perfect swap for a sugary frozen latte, this superfood version made with Café Latte Shakeology provides 29 grams of protein and 10 grams of fiber — plus a full cup of nearly undetectable frozen cauliflower.
La-La Land Smoothie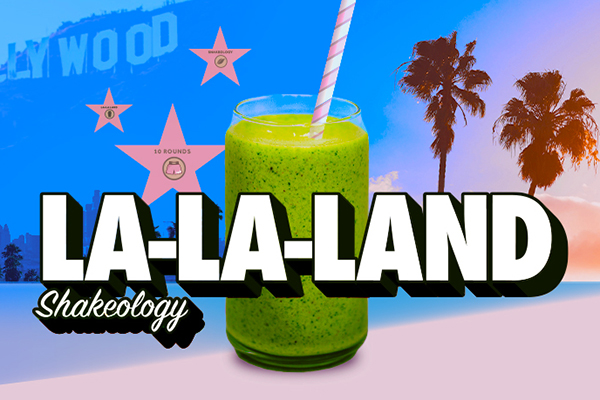 This bright, refreshing superfood smoothie is made with kiwifruit, kale, and avocado, along with a scoop each of Vanilla Shakeology and Collagen Boost.
No matter what flavor combo you're craving, you can create a superfood smoothie recipe that satisfies your taste buds. It's a convenient, versatile, boredom-proof way to get more nutrient-dense superfoods into your diet — and the perfect excuse to eat more dessert.
#Superfood #Smoothie