These healthy fall soup recipes, made with real food ingredients, are nutritious and will warm you up on a chilly autumn day.
Hi friends! Happy Monday! I hope you had a wonderful weekend. We caught up on some things around the house, I taught a barre class, we met up with friends for dinner, and got the Fit Team workouts out for September. If you'd like to join us, the link is here!
Since we're back in the school routine, I've been on the hunt for healthy and delicious recipes I can make quickly or in advance. Soups are one of our-go dinner options because you can pack in a ton of nutrition at once, the kids love soup, and leftovers are amazing for lunch (or breakfast!).
Today I'm sharing a round-up of some of our favorite healthy fall soup recipes from the blog + fellow blog friends.
Our Favorite Healthy Fall Soup Recipes
Slow Cooker White Chicken Chili
Speaking of fall months, this slow cooker white chicken chili recipe will keep you warm and satisfied as the temperature drops outside.
The best part? You can make a big pot of soup all at once, and enjoy it throughout the week. With simple ingredients and minimal prep work, this recipe is perfect for busy bees who love a tasty and healthy meal.
So gather your veggies, spices, and chicken, and let the slow cooker work its magic with this easy and delicious pot recipe.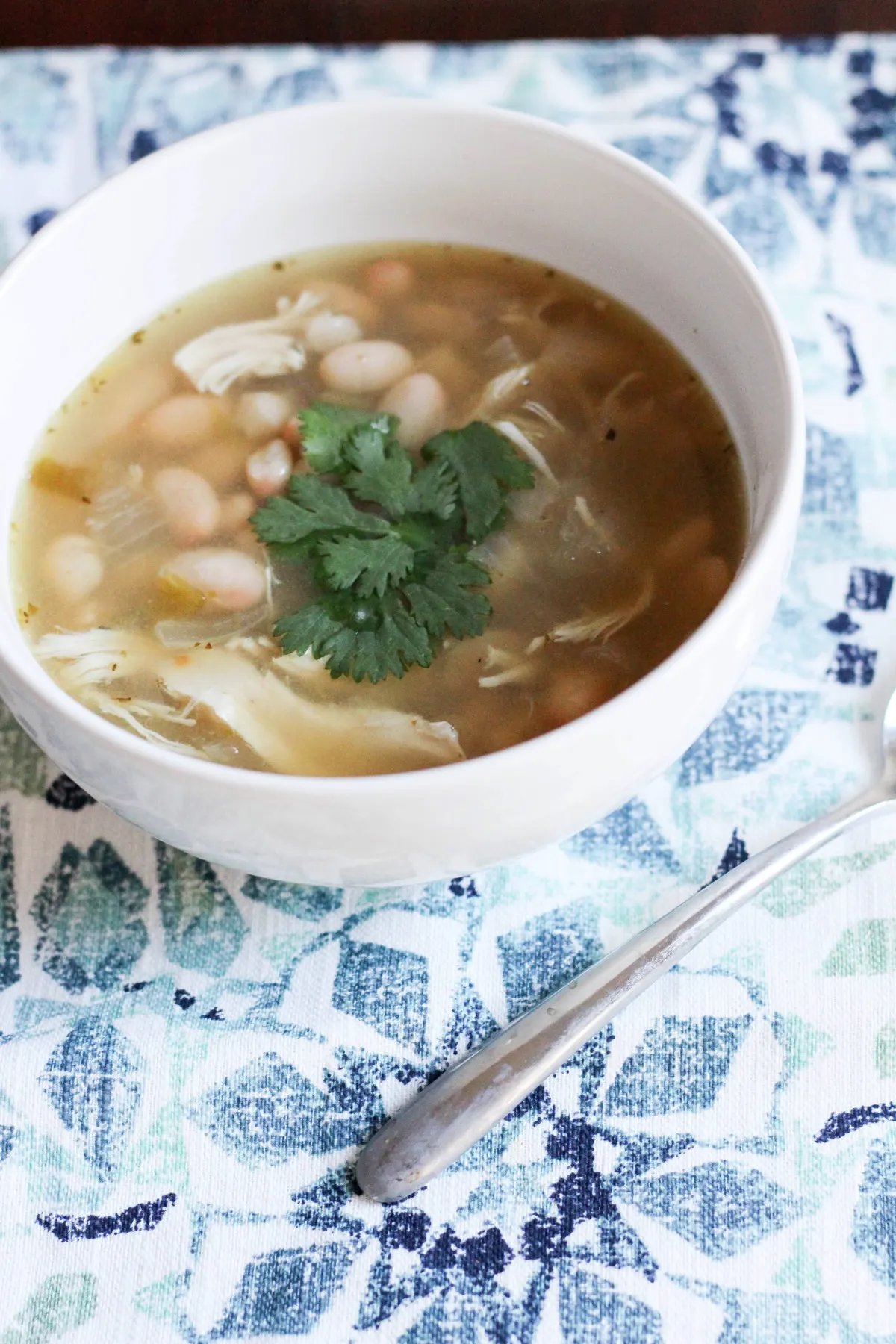 The Best Black Bean Soup
When it comes to black bean soup, this recipe is the ultimate comfort food that'll warm your taste buds and your soul. Trust me, it's like a cozy blanket for your stomach!
Not only is this soup indulgently delicious, but it's also a nutritional powerhouse. Packed with protein, fiber, and vitamins, it's a healthy dinner option that will satisfy your cravings without weighing you down. It's like sneaking in a workout while indulging in a flavorful fiesta!
So go ahead and whip up a pot of this amazing black bean soup. You'll have a bowlful of comfort that'll leave you feeling satisfied and oh-so-happy.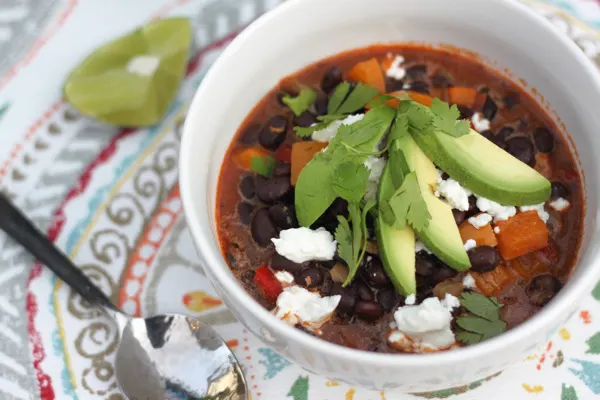 Miso Noodle Soup from Kath Eats
This Miso Noodle Soup is seriously delish. I mean, you could practically bathe in it – but let's stick to eating it, shall we?
Perfect for when the temperatures start to drop, this soup is packed with all the good stuff you need to power through any chilly day. Plus, it's vegan and gluten-free, which means everyone can enjoy it. Whip up a batch and get ready for some serious coziness – and major compliments on your cooking skills.
One Pot Golden Curry Chicken Soup from Fit Foodie Finds
This soup not only tastes heavenly but it's also packed with essential nutrients that'll make you feel like a superhero after one bowl. The subtle blend of anti-inflammatory spices will not only bring flavor to your party but may also help reduce any inflammation you've got going on.
Plus, with two types of protein, this soup is perfect for fueling your body post-workout or simply nourishing you on a cozy night. So go ahead and grab your trusty stock pot, because this one-pot wonder is ready to make your taste buds dance with joy!
One Pot Everyday Lentil Soup from Minimalist Baker
Picture this: a fragrant symphony of aromas fills your kitchen as the lentils, potatoes, carrots, and kale dance together in perfect harmony. This recipe has got your back, whether you're a seasoned pro in the kitchen or a newbie with a wooden spoon.
With just 10 simple ingredients and one trusty pot (and about 30 minutes to make), it's as beginner-friendly as a gentle yoga flow to start your day. It's like having a delicious culinary concert right in your own home! Want to add a personal touch to your soup? Feel free to experiment with your favorite herbs and seasonings. Whether it's a sprinkle of cumin for a hint of smokiness or a dash of chili flakes for a fiery kick, let your taste buds be your guide.
After all, in the kitchen, you're the maestro of your own culinary symphony!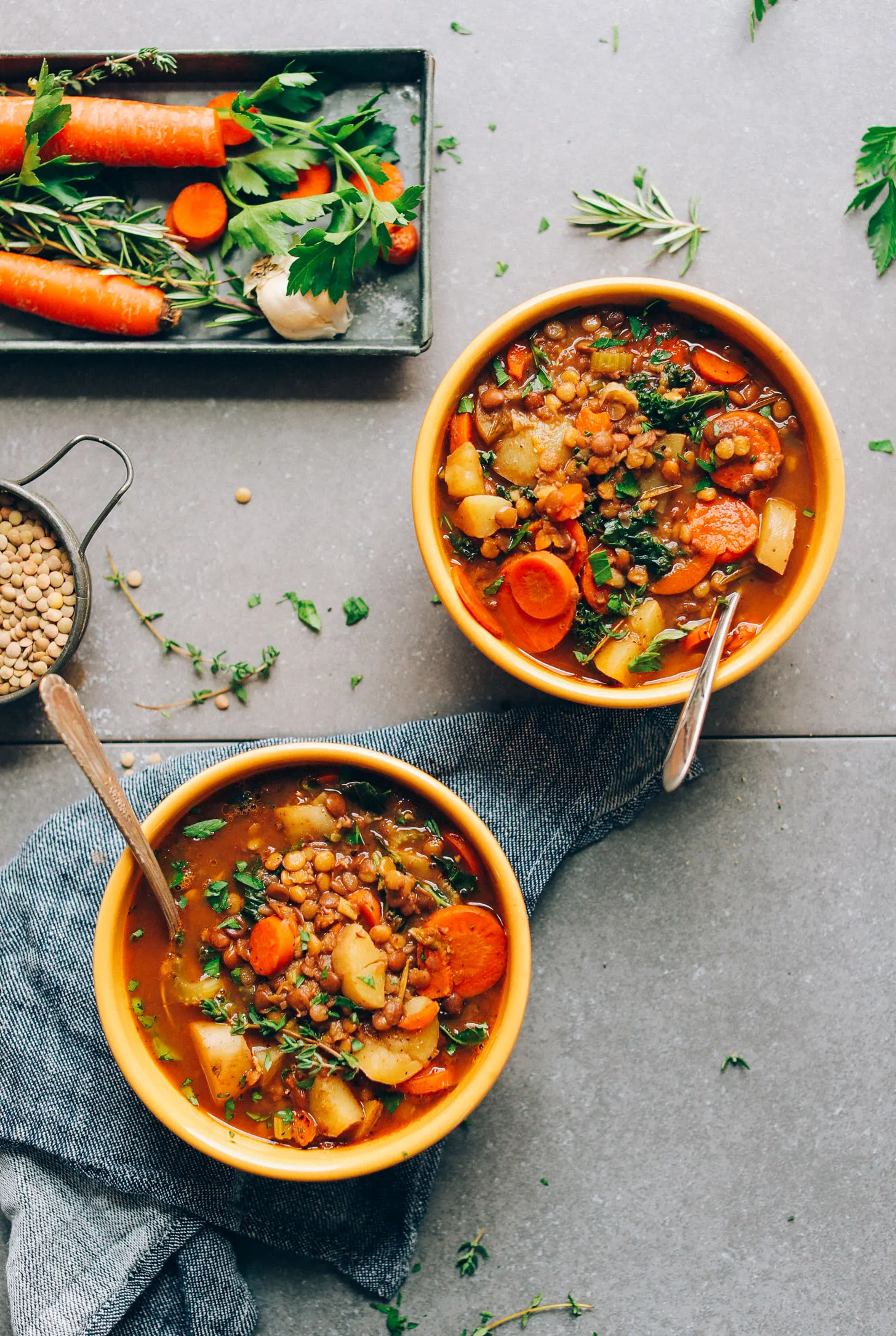 Taco Soup from Kristen Boehmer
If you're looking for a hearty and flavorful meal that the whole family will enjoy, you definitely don't want to miss this taco soup. It's like a fiesta in a bowl! Not only is it packed with protein and veggies, but it's also super easy to whip up – whether you prefer using your Instant Pot, Slow Cooker, or pure old-school stovetop.
And of course, we can't forget the best part – all of the delicious toppings! So go ahead, load up your bowl with cheese, sour cream, avocado, and crushed tortilla chips, and enjoy the ultimate taco soup experience.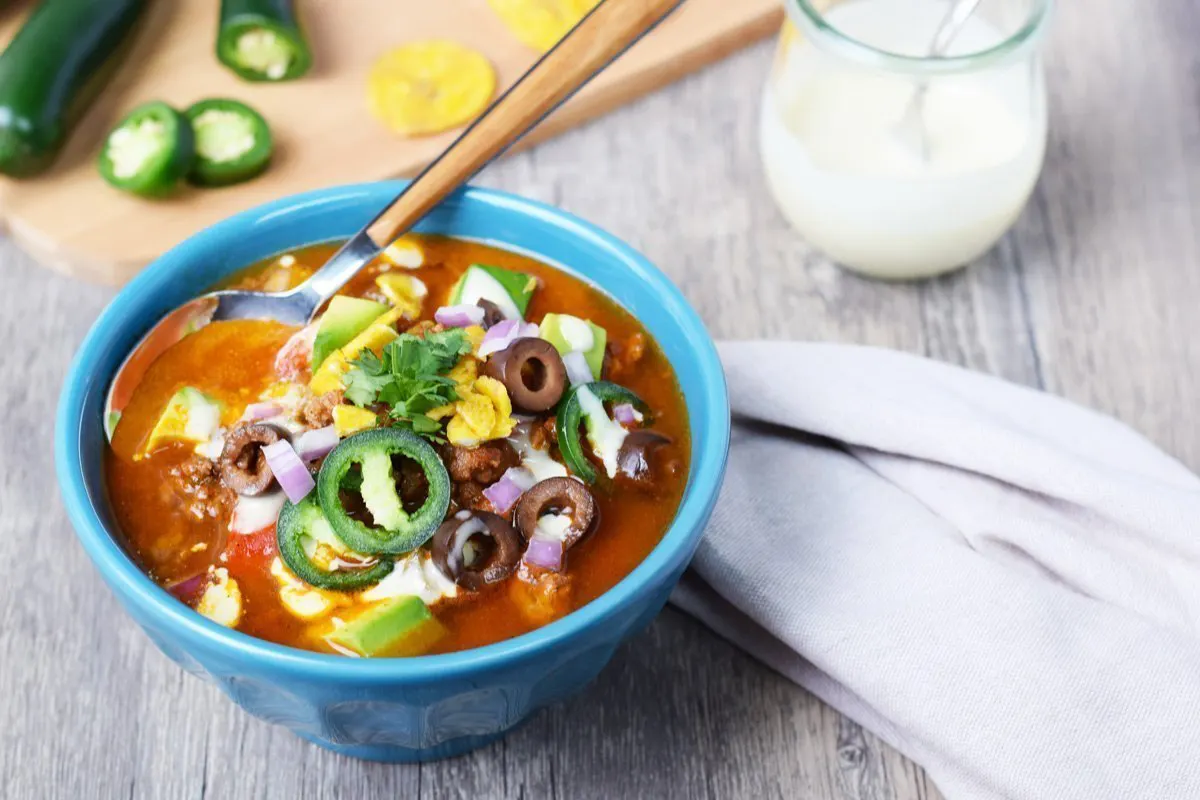 Outrageously Delicious Vegetable Soup from Eating Bird Food
This vegetable soup is about to blow your taste buds away! Not only is it jam-packed with all the good stuff – fresh veggies galore – but it's also bursting with aromatic spices and herbs that will dance on your tongue like a salsa party in your mouth.
And guess what? It gets even better! This soup is a dream come true for all our dairy-free and vegetarian pals. So you can slurp away without any worries. Trust me, one spoonful of this flavor-packed concoction and you'll be a veggie soup convert for life.
Get ready to say, "Move over, chicken noodle, there's a new soup in town!"
Soup up your fall with these flavor-packed recipes!
As we reach the simmering conclusion of this delicious blog on Healthy Fall Soup Recipes, I hope you've been inspired to grab your apron and ladle and dive into the cozy world of autumn soups.
From velvety butternut squash bisque to hearty lentil and vegetable stew, these hearty bowls are packed with flavor and nourishment that will warm you from the inside out. So go forth and embrace the season's bountiful produce, experiment with different spices, and get creative with garnishes.
Remember, the key to a truly soul-warming soup lies in the ingredients you choose and the love you pour into it. Happy cooking and bon appétit, my dear soup aficionados! Keep sipping and savoring those nutritious fall flavors. Until we meet again, stay warm, stay healthy, and soup on!
Tell me, friends: what's your favorite soup or chili recipe? Please share the love in the comments section below!
xoxo
Gina
You may also enjoy:
#Favorite #Healthy #Fall #Soup #Recipes