Sharing my thoughts on Sculpt Society and if I'd recommend this workout!
Hi friends! How was the weekend? I hope you had a wonderful one. We celebrated Liv's birthday with friends and also enjoyed a long hike with Maisey. It was the perfect weekend.
For today's post, I'm excited to share a new-to-me workout format: Sculpt Society! I was ad-targeted for this one forever, and since I always love trying new body workouts and absolutely love dance cardio, I figured I'd give it a whirl. This workout program was founded by Megan Roup (you can check out her Instagram here) and I'll share a full review below. Heads up that this review isn't sponsored; I signed up for a 7-day free trial and am going to keep my subscription for a couple of months. I've tried a lottttt of fitness apps in my day and am always pumped when I find a winner. 🙂
You can use my referral link to get a 7-day trial plus one month free on the app!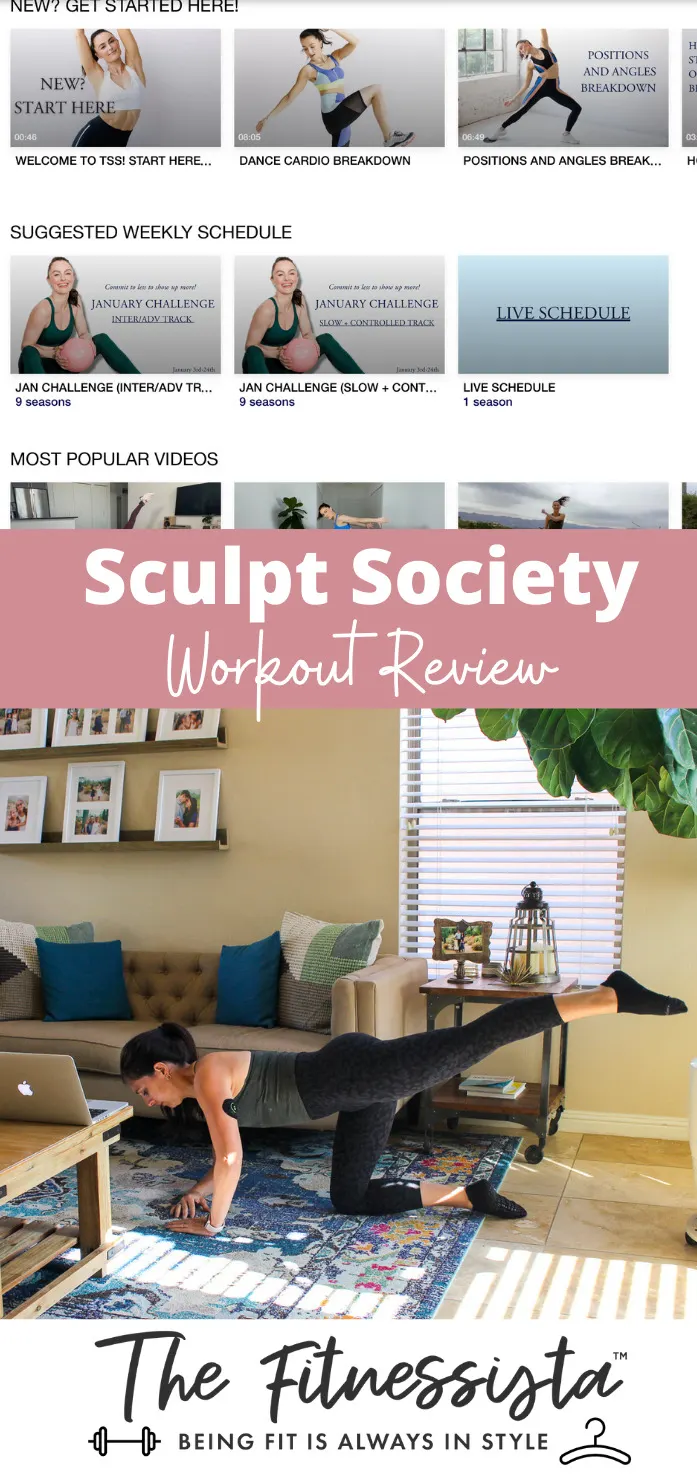 Sculpt Society Review
What Is Sculpt Society?
As I mentioned above, Sculpt Society was created by trainer Megan Roup and is a blend of dance cardio, barre, Pilates, and traditional strength. Megan worked as a professional dancer for the Brooklyn Nets and developed this workout style in 2017. She says, "I wanted to create a program that would help women reach their goals and would still be fun. My mission with The Sculpt Society workout app is to empower women through movement, to stand in their bodies with confidence and strength, and to feel their best self." (Source)
The Sculpt Society App And Website
On The Sculpt Society app and website, you can find over 400 classes. When you first log into the TSS app, you'll see an example weekly schedule of classes, a live video schedule, popular videos, and programs you can follow.
The classes are also organized into segments: Gentle + Beginner classes, 30 min sculpt, 30 min dance cardio (my personal fave), 30 min full body, 45-50 minute full body, side body classes, stretch + yoga. There's also a "Getting Started" section which breaks down common exercises and offers modifications. I'm going to focus on a couple of my fave Sculpt Society workouts below:
30 min Dance Cardio
As I mentioned above, this is my favorite one. The combos are more athletic and on the simple side, easy to follow, but still a lot of fun. This is hard when you're teaching mixed levels of dance abilities, and I feel like a beginner to advanced dancers would enjoy these combos. The beauty of online dance workouts is that you can pause the video and practice a move until you get it and then resume. Don't be intimidated if you don't consider yourself "a dancer!" These classes include a lot of jumping, but you can absolutely modify them for a low-impact workout.
For these classes, you can expect a short warm-up, an athletic dance combo that you build onto, a break for arms and abs segments, and then back to the combo to finish it out.
Quickie workouts: Arms, Abs, and Full Body
The quickie workouts are 15-25 minutes and focus on various muscle groups. These are a nice add-on to other strength or cardio workouts and focus on more barre-style endurance exercises (full-range movements, pulses, and holds). These are also great workouts when you don't have a ton of time but want to move your body.
Sculpt Workouts
These are around 30 minutes and use light weights along with an optional resistance band. These are also more barre-based movements, with lots of core stabilization, side series, booty work, and ab burners. I feel like this is a smart way to change up traditional strength training, especially if you do a lot more hypertrophy or circuit-based training (10-15 reps, moderate weights). This will challenge you in an entirely different way and I love the added core stability of many of these exercises.
Sculpt Society Prenatal
Are you pregnant and ready to kick those pregnancy pains to the curb and feel strong and energized? Then you need to try the Sculpt Society's prenatal program! It's designed just for you, with exercises that build strength, improve flexibility, and reduce discomfort. Our program includes low-impact cardio, strength training, and exercises for your pelvic floor and abs. With better posture, less back pain, and more energy, you'll be ready for labor and delivery. Come on, join us now, and see for yourself how amazing you can feel!
Sculpt Society Postpartum
The Sculpt Society's Postpartum Program offers personalized workouts and expert guidance for new moms, all from the comfort of their own homes. With a supportive community and a focus on physical and mental health, our program helps new moms achieve their fitness goals amidst the chaos of motherhood. Sign up now and prioritize your well-being!
What equipment do you need?
You don't need a ton of equipment for these workouts. I've only done a few, but I've only seen light hand weights, a resistance band loop, a Pilates ball, and optional ankle weights in the workouts.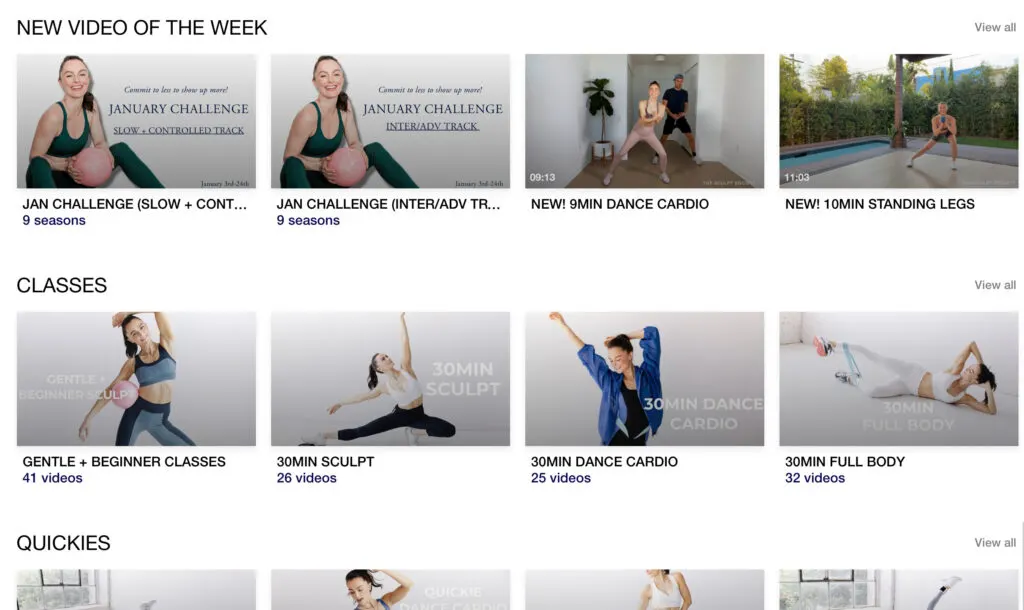 Benefits & Results
– You can do Megan's workout at home in your living room, or while you're traveling, with minimal equipment.
– I really like Megan and her style of training. The over-the-top peppy fake fitness instructor vibe doesn't work for me, and I typically find myself going for trainers that seem like nice, normal, people (a huge reason why I love Les Mills workouts so much! They're motivating without being artificial.). I also find that I work harder when the instructor is talking normally, instead of high-pitched and overexcited lol. Megan has a really lovely vibe, and while she has branded taglines or performs solo dance breaks (hi Peloton), she's energetic and gives great cueing. (There are other trainers in the app, but I haven't tried their classes yet.)
– As far as results go, it absolutely depends on how often you do these workouts and how the other foundational habits in life are going (sleep, stress management, nutrition, hydration, etc). I feel like it's a solid mix of strength, cardio, mobility, core work, and stretching — I'd just be sure to include a couple of rest days each week and at least 1 day of heavier resistance training to fatigue.
Sculpt Society Cost
– Sculpt Society offers a free 7-day trial and it took a quick Google search for me to find a discount code for my first month. After that, it will be $19.99 per month. You also get a 24% discount if you choose the annual billing option. My referral link will get you one month free on the app!
So, tell me friends: have you tried Sculpt Society or anything similar? Dance cardio lovers: what's your favorite type of class?
Any other fitness formats you'd like to see my review?
xoxo
Gina
A couple of my dance cardio workouts you can try!
Dance Cardio Sculpt
Another Dance Cardio Sculpt
More workout reviews:
Peloton App
SWEAT app Fierce program review
Obe Fitness
Best Fitness Apps
Les Mills +

#Sculpt #Society #Review #Fitnessista