We receive free products and receive commissions through our links. See disclosures page.
Probiotics are live microorganisms in the form of bacterial strains that are beneficial to human health and wellness. Researchers have discovered that supplementing with these biotics can help reduce the risk of chronic diseases, improve gastrointestinal health, and even boost your immune health. (1) However, it is important to pick the best probiotic that will support your unique needs and goals.
As a registered dietitian nutritionist, I am often asked for recommendations on the best probiotic supplements. In my experience, I have found that those who start taking probiotics report less gastrointestinal discomfort in the form of gassiness, abdominal pain, bloating, and irregular bowel movements. I have counseled hundreds of people and have found that routine use of probiotics can help with food digestion and absorption. 
In this review, we will dive deep into our top 10 picks and answer all of your questions as they relate to formula, bacterial strains, colony-forming units (CFU, or the number of viable bacterial cells in a probiotic), cost, serving size, and product form.
Medical disclaimer: This article is intended for educational and informational purposes only. It is not intended as a substitute for medical advice. For health advice, contact a licensed healthcare provider.
How We Chose the Best Probiotic
To save you time and money, we have researched and determined our top 10 favorite probiotic supplements. We carefully considered each probiotic's dose, cost, CFU ability, form (powder versus capsule versus beverage), type of bacterial strain, and added beneficial ingredients. 
Making a well-informed decision about dietary supplements is important. Not every probiotic supplement is made the same. Most have different strains in varying amounts and many have different supporting ingredients that boost your health and promote healthy bacteria growth. Whether you prefer supplements in powder, gummy, capsule, or beverage form — we have you covered. Whether you are looking to support your weight loss journey, decrease IBS symptom flare-ups, desire a product that is vegetarian-friendly, or need a finance-friendly probiotic, this review is sure to have a product that will meet your needs.
Our Top Picks for the Best Probiotic Supplements
Best Probiotic Overall: Ritual Synbiotic+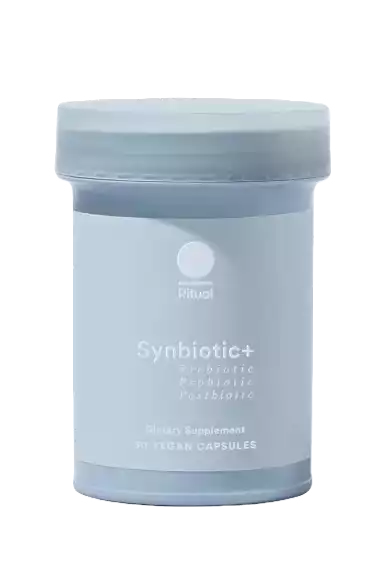 Pros
You get an automatic 25 percent off of your order for the first month 
Manufactured without genetically modified organisms (non-GMO)
Vegan and gluten-free (not all probiotics are gluten-free)
Third-party tested and verified for purity
Cons
Requires a monthly subscription
Unlike any other probiotic supplement we have researched, Ritual Synbiotic+ packages its bacterial strains in a vegan, time-delayed release, minty-flavored capsule. A time-delayed release capsule is beneficial, as it gives the supplement time to pass through the stomach without prematurely being broken down (I discuss this more under the "When Is the Best Time to Take a Probiotic?" heading below).
To further put your mind at ease, this product is delivered to you in a moisture-controlled bottle. The packaging prevents it from being exposed to contamination and degradation. 
Ritual Synbiotic+ is aptly named because it includes both probiotics and prebiotics. When a probiotic and prebiotic are consumed in combination, they are grouped into what we call synbiotics. Synbiotics have been found to regulate the immune system and prevent chronic disease. They are also responsible for potentially alleviating symptoms of inflammatory bowel disease, treating infection, and helping manage symptoms caused by cancer therapy. (2)
Ritual Synbiotic+ has only two strains of probiotics. It provides 11 billion CFU of Lactobacillus rhamnosus and Bifidobacterium animalis. This CFU count is on the lower end compared to other products. However, these two strands are highly researched and have been found to potentially enhance digestion, increase immunity, and even improve mental health. (3)
Each capsule also contains 15 milligrams of PreforPro prebiotic and 300 milligrams of tributyrin, both of which have been studied in clinical trials at those specific doses. 
Tributyrin is a short-chain fatty acid (the type of fatty acid that is considered beneficial and protective of your health) that has been connected to decreasing gut inflammation. Tributyrin supplementation has been strongly recommended by researchers as a potential way to treat metabolism disorders such as obesity. (4)
Ritual discloses where it obtains its specific strains from and the strains' final location of manufacturing. Its prebiotic is supplied by Deerland and manufactured in Kennesaw, GA. Its probiotic blend is supplied by Chr. Hansen and manufactured in Hvidovre, Denmark. Ritual sources its tributyrin from Compound Solutions, and it is manufactured in Sevilla, Spain. This level of transparency is unique, as not all probiotic companies disclose where they get their probiotic and prebiotic strands and other ingredients from.
Many probiotics use an animal-based coating for their capsules or manufacture their product with dairy-based protein. But to keep Synbiotic+ open to everyone, Ritual uses only plant-based ingredients — from the capsule to its formulation. Ritual Synbiotic+ is also third-party verified and tested for quality and safety to make sure it complies with regulations for heavy metals, major allergens, and microbes. 
A member of the Breaking Muscle reviews team used this probiotic for several weeks and had a positive experience with it. She found the mint-flavored capsules refreshing, but while she didn't experience many side effects, she did notice some gassiness after taking it. Keep in mind, though, that your experience may vary, and we still recommend Ritual Synbiotic+ for anyone who wants to add a safe, vegan, and gluten-free probiotic to their regimen. 
RELATED: Best Collagen Supplements
Best Probiotic for Women: Garden of Life Daily Dr. Formulated Probiotics for Women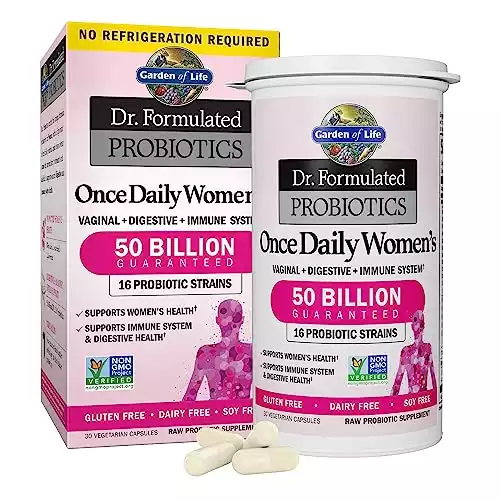 Pros
Dairy-free, gluten-free, and soy-free
Includes 377 milligrams of prebiotic fiber blend
Users report the capsule is very easy to swallow
Cons
Some reviewers report experiencing loose bowel movements for a while after discontinuing this product
To help support women's health, Garden of Life Daily Dr. Formulated Probiotics for Women contains the highly clinically researched strands Lactobacillus reuteri and Lactobacillus fermentum. These two strands have been strongly correlated with helping to prevent, improve symptoms associated with, and even improve the condition of bacterial vaginosis and yeast infections. They help us women achieve optimal health by maintaining proper pH levels to support a healthy vaginal and digestive tract microbiome. (5)(6) For these reasons, we consider it the best probiotic for vaginal health.
Furthermore, T Lactobacillus reuteri is known for its anti-inflammatory function for both the digestive tract and vagina. Lactobacillus fermentum is known for promoting immune function. (5)(6)
Probiotics only survive if they have received proper nutrition to flourish and thrive best when you also consume prebiotics (food that is non-digestible, such as insoluble fiber). Garden of Life Daily, Dr. Formulated Probiotics for Women has an added 377 milligrams of prebiotics in each capsule. This is a clinically-supported dose of prebiotics and is a fair amount when compared to other prebiotic-containing probiotics. Rest assured that this product delivers you the right kinds of nutrition to help the beneficial bacteria flourish.
A female product tester on the Breaking Muscle team tested this probiotic and didn't notice any negative side effects, like bloating or other digestive issues. She found the capsules easy to swallow and loved that the bottle didn't have to be refrigerated. If you're a woman who's looking for an easy-to-store probiotic that won't upset your stomach, this could be a good choice.
Best Probiotic for Men: Transparent Labs Probiotic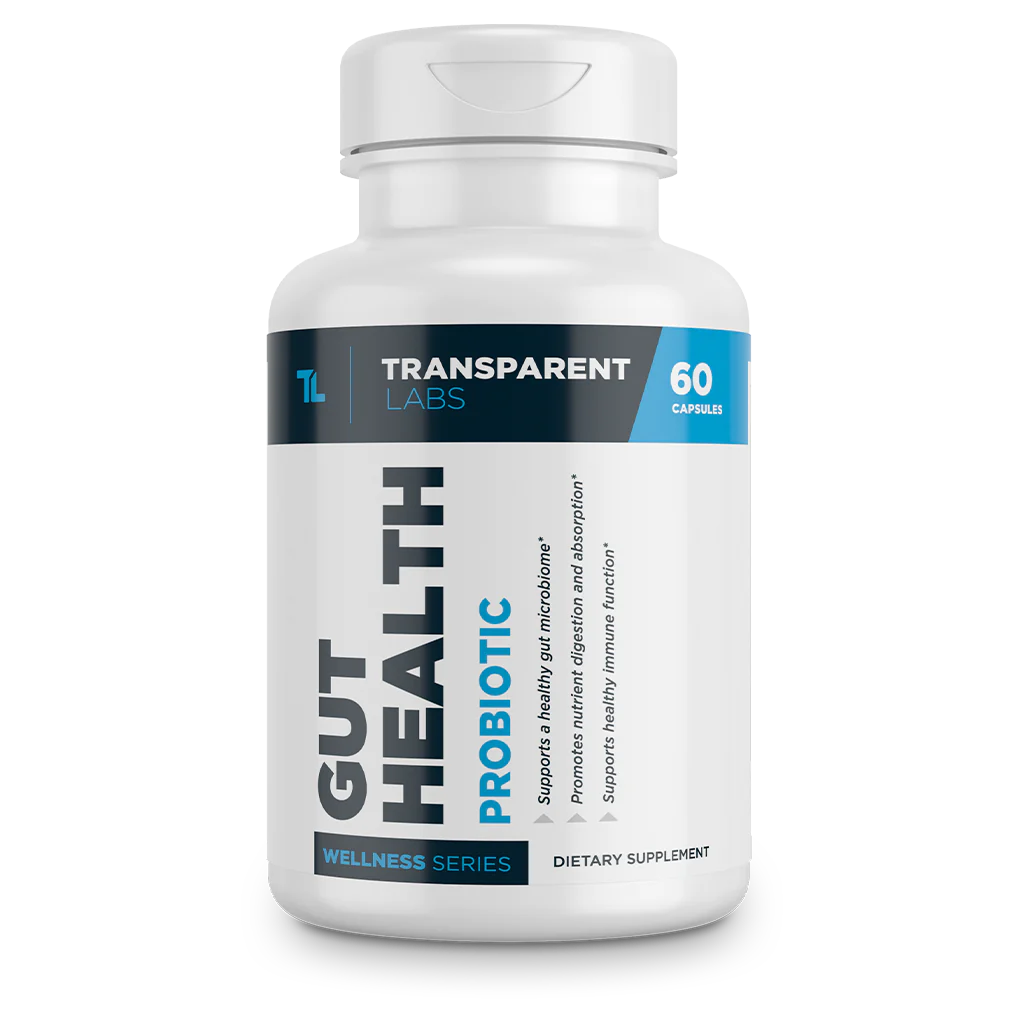 Pros
Made without artificial sweeteners, colors, or preservatives
Non-GMO certified 
Vegan-friendly and gluten-free
Cons
Serving size is two capsules
Some people report difficulty swallowing them
Men who struggle with high blood cholesterol levels may benefit from the Transparent Labs Probiotic in several ways. The strand Lactobacillus acidophilus has been found to reduce testicular tissue damage caused by high cholesterol levels in the blood. It is also linked to improving male fertility hormone levels. (7)
With each capsule, you will be introducing 10 strains of good microbes into your gut. All of these strains derive from three specific bacteria: Bifidobacteria, Lactobacilli, and Streptococci. Among other strains, you will get automatic access to Bifidobacterium bifidum, 
Streptococcus thermophilus, and Lactobacillus paracasei. All of these strains are highly correlated with increasing nutrition absorption and improving digestion. 
More than half of the strains found in Transparent Labs Probiotic are from Lactobacillus. A randomized, crossover study found that men who supplemented with Lactobacillus paracasei (a strain found in this product) were able to raise their overall testosterone levels in just 24 hours after consumption when compared to men who received a placebo supplement. (8)
Free of artificial sweeteners, colors, and preservatives, Transparent Labs Probiotic is third-party verified to ensure label accuracy and ingredient purity. When it comes to deciding which probiotic supplement is best for men, it was an obvious choice.
Note, however, that you may not notice any positive changes if you already eat a lot of fermented foods. One of our male staff members tried it for several weeks and didn't notice a difference in how he felt, though he eats fermented foods nearly every day. This probiotic may be better suited for men who lack these types of foods in their diet.
Best Probiotic for Gut Health: Legion Biome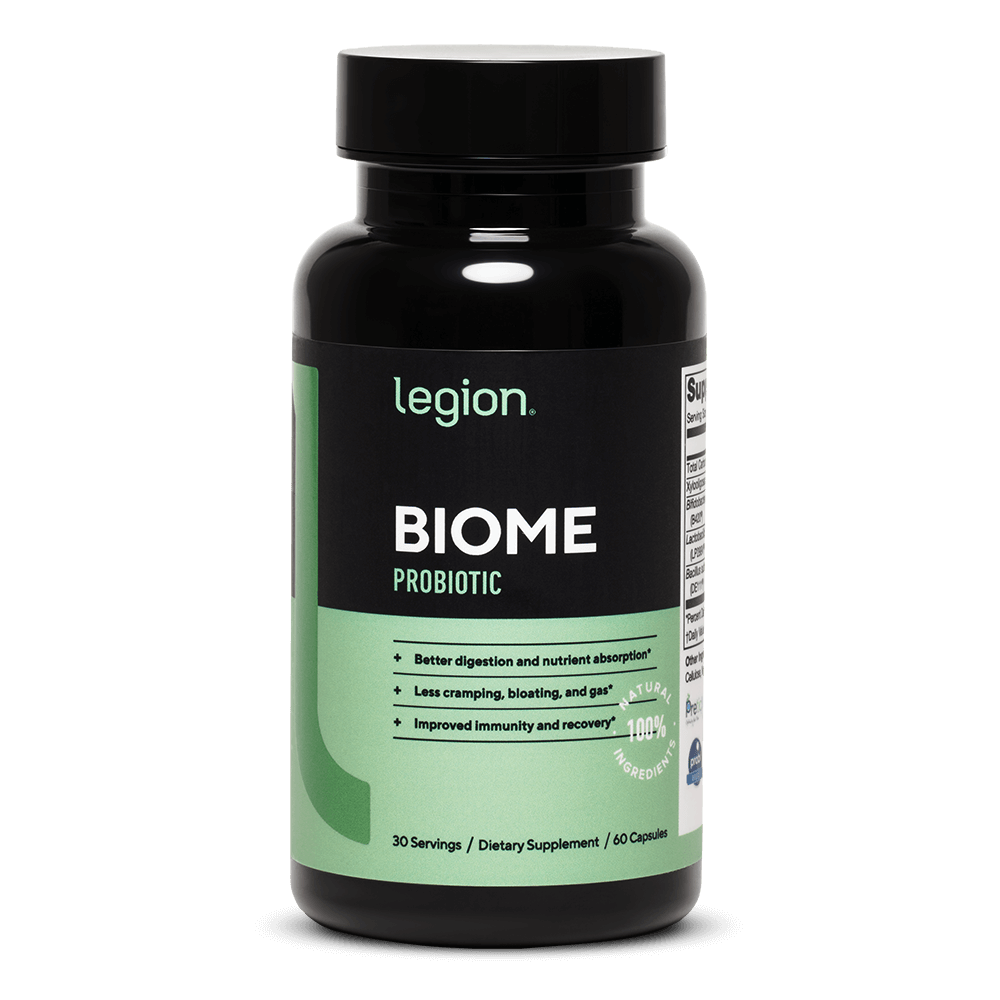 Legion Biome
Number of servings: 30
Cost per serving: $1.67
Form: Capsule
Strains: Three
CFU count: 25 billion
Check Price
Pros
Third-party tested in an ISO 17025 accredited lab
Manufactured in an NSF-certified, FDA-inspected, and cGMP-compliant facility
Has 1,000 milligrams of prebiotic per serving
Cons
Advertised as $0.83 a capsule — this is misleading since a serving size is two capsules
Designed to best support your overall gut health, Legion Biome is made with research-backed ingredients to improve how well you absorb nutrients, decrease inflammation, and improve gastrointestinal discomfort such as bloating and cramping. It is also lab-tested for ingredient purity and potency. This kind of testing checks for contamination, heavy metals, major allergens, and unregulated microbes. 
Providing you with 10 billion CFU, Bifidobacterium lactis B420 is strongly correlated with improving nutrient absorption. This strand has the ability to assist the gut in breaking down complex carbohydrates into molecules that are easier to digest and therefore more readily absorbed. By improving macronutrient breakdown, this strain of probiotic can potentially help reduce the likelihood of you developing a vitamin or mineral deficiency. It can also help improve the immune system. (9)
Also playing a large role in immune system regulation is Bacillus subtilis DE111. You will get five billion CFU of this strain from Legion Biome per serving. This particular strand may reduce inflammation of the intestines and increase the amount of anti-inflammatory immune cells found in the gut lining. (10)
Last but certainly not least is the 10 billion CFUs you will obtain from Lactobacillus plantarum 299v. This research-supported strain has been found to improve symptoms of bloating, gas, and pain. People who have irritable bowel syndrome (IBS) have reported improvement in their symptoms when supplementing with Lactobacillus plantarum 299v.
One of our product testers found the capsules easy to swallow but didn't notice any major changes since she started taking this probiotic a few weeks ago. Still, if you are seeking to improve your gut health, add Legion Biome into your regimen as a way to possibly improve overall function, offer protection to your intestinal lining, and boost your immune health. (11)
RELATED: Best Creatine Supplements for Building Muscle, Cutting, and More
Best Probiotic Yogurt: Activia Probiotic Dailies Low Fat Yogurt Drink
Pros
Not a capsule — more suitable for those who have difficulty swallowing pills 
Available in 4 flavor options: vanilla, strawberry, cherry and blueberry, and strawberry and blueberry 
Manufactured with added vitamin D3
Cons
The specific CFU count is not disclosed but the packaging does advertise each bottle as containing billions of live and active probiotics. 
If you aren't looking to add another pill to your daily health regimen, try a yummy yogurt drink like the Activia Probiotic Dailies Low-fat Yogurt Drink. This product is only 3.1 ounces of liquid, making it an easy and delicious way to take care of your gut.
This yogurt drink will introduce you to five healthy, gut-friendly probiotic bacteria: Lactobacillus bulgaricus, Lactococcus lactis, Streptococcus thermophilus, Bifidobacterium lactis DN-173 010, and Bifidobacterium lactis CNCM I-2494. Activia Probiotic Dailies also provides you with 10 percent of your recommended daily value of vitamin D. Vitamin D is difficult to obtain from gummy and encapsulated probiotics, giving Activita's probiotic drink an advantage for those who are cognisant of vitamin deficiency. (12)
Vitamin D has many roles, including support for immunity, hormone regulation, and bone strength. But one of its major roles is helping to maintain intestinal integrity. It helps to promote gut health by creating gut lining that is attractive to good bacteria and repairing damage caused by harmful bacteria. 
Try mixing this drink with your morning smoothie, make a yogurt parfait with berries and nuts, or add it to your overnight oats for extra nutrients.
Best Probiotic for IBS: YourBiology Gut+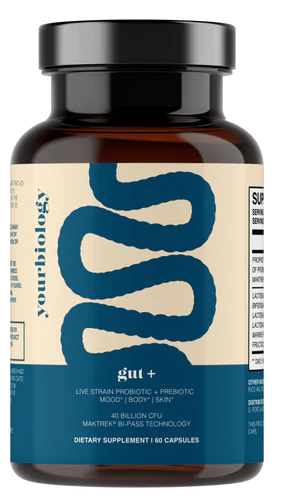 Pros
Third-party tested and GMP-certified
Made in the United States
Manufactured without preservatives 
Made without the major allergens dairy, soy, and gluten
Cons
More expensive when compared to other probiotic supplements
Anyone who suffers from irritable bowel syndrome (IBS) can attest to the many supplements they have likely tried to help relieve symptoms. This chronic condition usually leads to a lifelong battle with gastrointestinal (GI) discomfort, bloating, gas, iron deficiency anemia, malabsorption, and other GI conditions. (13) Finding a supplement that may help alleviate IBS symptoms is difficult. But as always, we have you covered. 
YourBiology Gut+ uses four powerful strains — Lactobacillus acidophilus, Bifidobacterium lactis, Lactobacillus plantarum, and Lactobacillus paracasei. The amount of each strain in this proprietary blend is not disclosed, but they are listed in descending order of potency on the label.
These specific strains have been clinically researched to support their use in improving digestion and bowel movement patterns. The beneficial bacteria introduced to your gut by this product have been found to help with the specific IBS-related symptoms of gas, stomach pain, unpredictable bowel movements, and bloating. (14)(15)
Clinical trials have linked the use of Lactobacillus plantarum with IBS-related symptom relief within four weeks of supplementation. Lactobacillus acidophilus and Bifidobacterium lactis supplementation has been found to reduce stomach distention, relieve GI pain and discomfort, and assist with normalizing bowel movement weight and consistency. (14)(15)
Additional placebo-controlled research discovered that supplementing with Lactobacillus paracasei may reduce IBS symptom severity and help regulate bowel movements. (16)
Best Probiotic for Weight Loss: Naked Nutrition Naked Gut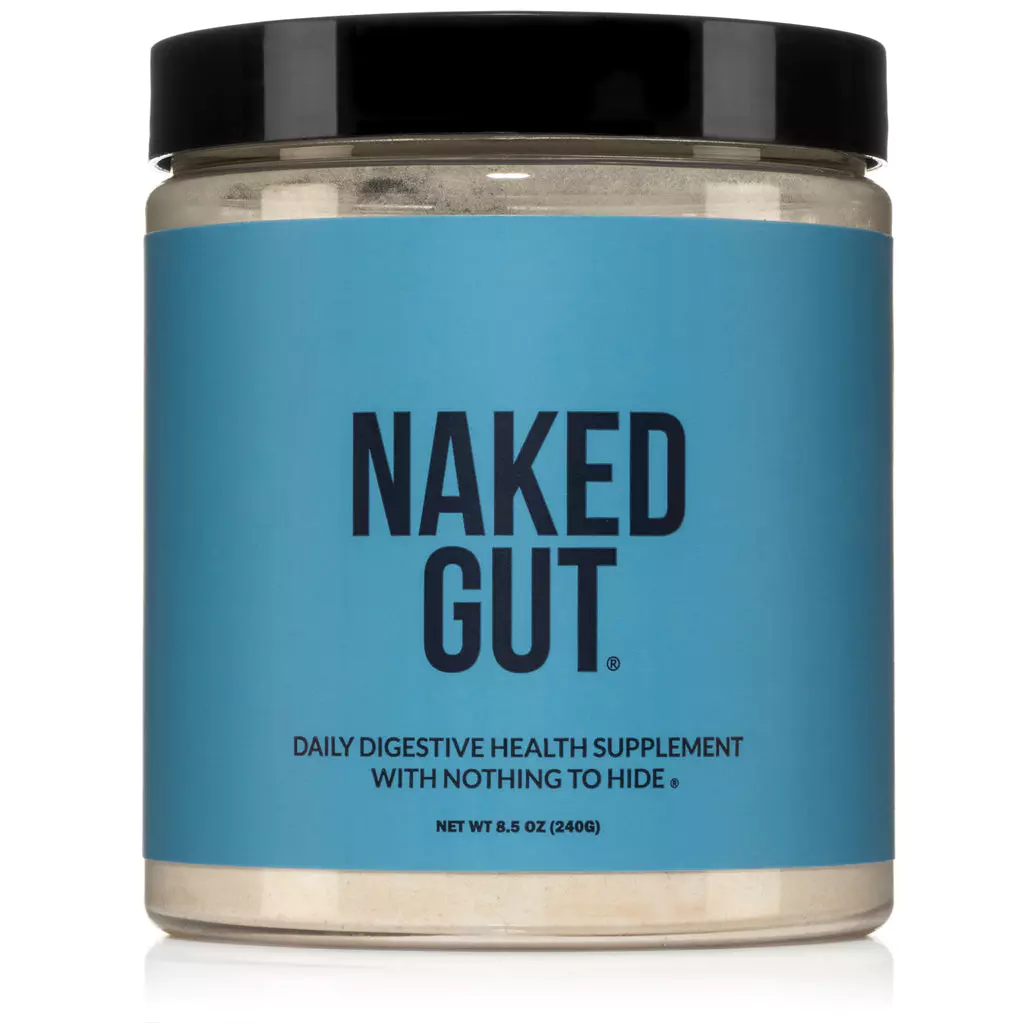 Pros
Vegan-friendly 
Zero grams of fat and only four grams of carbs per scoop 
Made in the United States without additives
Cons
Uses only one strain of probiotic 
Lower CFU count compared to other supplements
There is no one-step cure for weight loss. However, evidence-based research has demonstrated that appropriate exercise alongside a balanced, healthy whole-food diet can help facilitate weight loss safely and effectively. So why not supplement with something that can help promote your gut health for maximum nutrient absorption on your weight management journey? 
For only 15 calories and four grams of carbohydrates per scoop, you can help your gut health flourish with Naked Nutrition Naked Gut powder. It only has one strain of probiotic (Bacillus subtilis DE111), compared with other supplements that have 10 or more strains. But with every scoop, you will receive 1,000 milligrams of the amino acid glutamine.
In a pilot study focusing on the effects of glutamine on females, researchers found that those who supplemented with it experienced a reduction in their overall body weight and waist circumference. They attributed this weight loss to the effects that glutamine has on metabolism and possibly decreasing the risk of developing type 2 diabetes. (17)
Inulin is a type of prebiotic and soluble fiber, both of which help to improve healthy gut microbiota numbers. With Naked Nutrition Naked Gut supplement, you will get 850 milligrams of inulin in the form of Jerusalem artichoke. This particular form of inulin has been linked to improving blood lipid levels (the amount of fat found in your blood). It also increases your gut's Bifidobacterium strain count. Increased Bifidobacterium counts have been connected to better metabolism, reduced waist circumference, and reduced overall body fat. (18)
It is made without artificial sweeteners, colors, or flavors. Many reviewers comment that this product has high solubility but that the flavor is "just okay." However, several other people report that after mixing it in a smoothie or their morning coffee, they had no issues with the flavor.
RELATED: Best Supplements for Weight Loss
Best Prebiotic and Probiotic: Onnit Total GUT HEALTH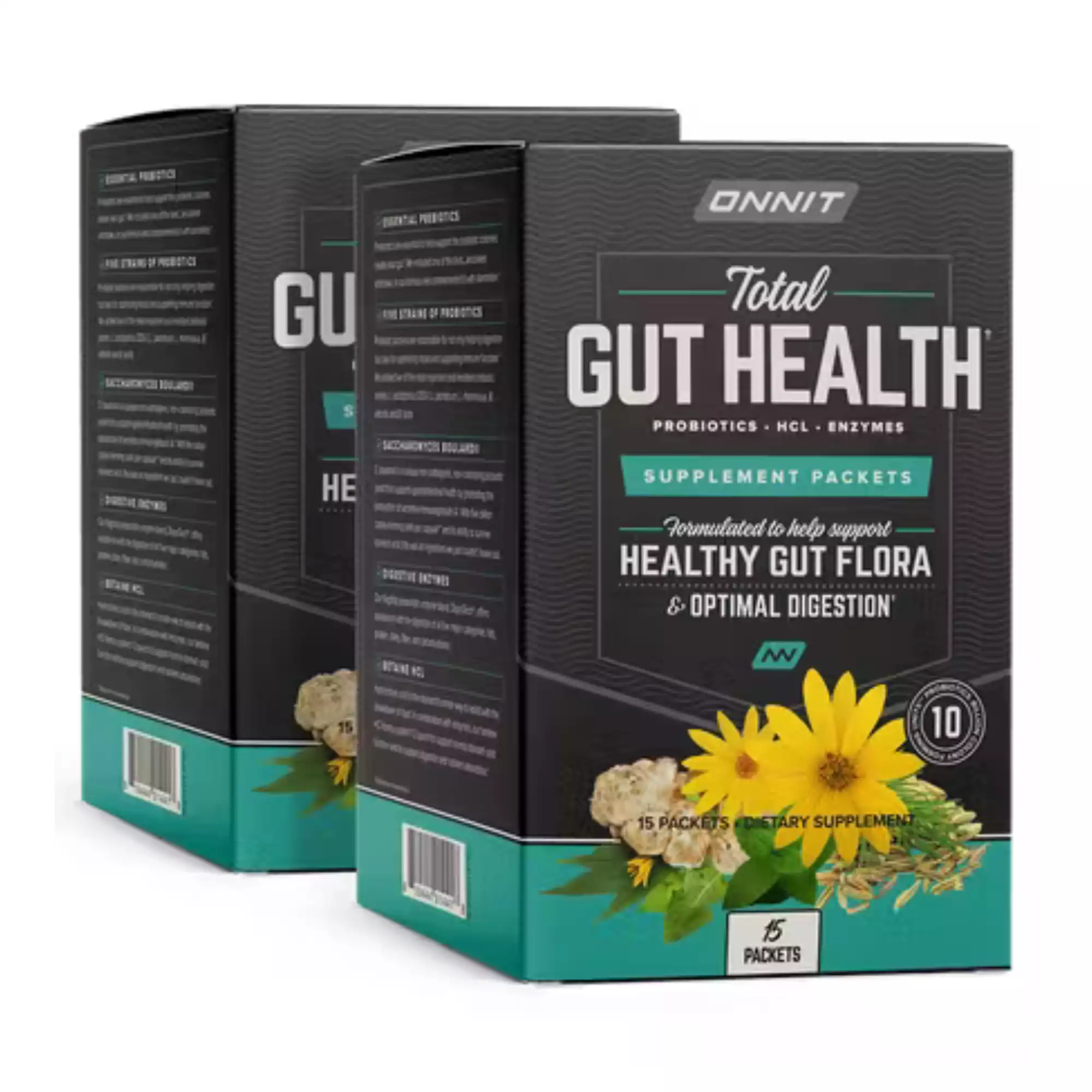 Pros
Made with 1,890 milligrams of a signature blend of digestive enzymes per packet
5,250 milligrams of prebiotic per packet 
Many users report a reduction in bloating quickly after routine use of Onnit Total Gut Health
Cons
A serving size is one packet and one packet contains seven capsules 
More expensive than other probiotic supplements on the market
Onnit Total Gut Health is more than a probiotic supplement. To best support your overall gut health, this product delivers 5,250 milligrams of prebiotic, 3,500 milligrams of betaine hydrochloride, and 1,890 milligrams of a digestive enzyme blend per packet. These beneficial nutrients are in addition to the impressive 35 billion CFUs of probiotics you can expect to receive per package. 
Betaine hydrochloride may help you maintain a normal stomach pH level and therefore help with food digestion. It has also been linked to possibly promoting diversity of the gut microbiome and may make healthy gut bacteria more available for prebiotics to nourish. (19)
As discussed, probiotics flourish best when they have prebiotics available to nourish them. Prebiotics are more readily available to probiotics if you are able to break your food down and digest macronutrients well.
With Onnit Total Gut Health, you have all the help you need from its specialized digestive enzyme blend. This blend consists of 16 enzymes that have the potential to maximize your nutrient absorption by easily breaking down your food.
Amylase, for example, is present in this product in a high quantity of 23,000 SKB, which measures how quickly a complex carb is broken down into simpler carbs. This is almost half of the normal amount that naturally occurs in your mouth. Amylase has been well-researched as a way to digest carbohydrates. This leaves room for the 5,250 milligrams of prebiotics present per serving to feed your healthy gut bacteria and assist with maintaining intestinal integrity. (20)
Best Probiotic for Bloating: Culturelle Pro Strength Daily Probiotic Supplements for Women & Men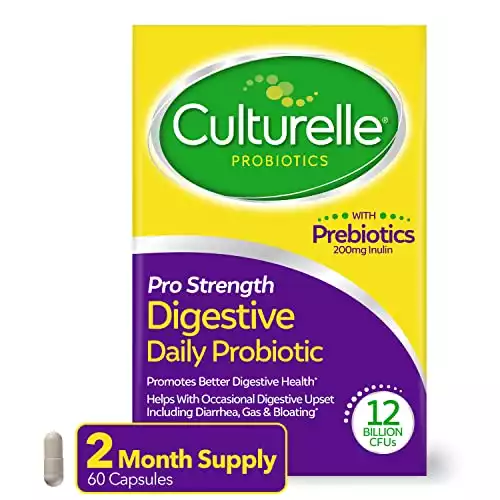 Pros
Only need to take one capsule per day — many other supplements recommend two capsules a day 
Contains 200 milligrams of the prebiotic inulin
An affordable option when compared to others on the market
Cons
Some reviewers reported no positive side effect changes in their digestive issues
Culturelle Pro Strength Daily Probiotic Supplements for Women & Men is more affordable than other probiotics supplements on the market, coming in at around $0.52 per serving, compared with other probiotics that cost $1.50 or more per serving.
It is made with high-quality ingredients, including the strain Lactobacillus rhamnosus, which has a high threshold for survival. Studies reveal that this particular strain increases in population with routine probiotic supplementation. In a randomized, double-blind trial, it was correlated with reducing symptoms of bloating when compared to placebo groups. (21)
In addition to the 12 billion CFU of Lactobacillus rhamnosus, this product contains 200 milligrams of inulin in the form of chicory root extract. In this form, inulin is not digestible by humans. Therefore, it survives the low pH of the stomach and is not digested or absorbed by enzymes. Inulin is necessary for probiotics to function at their max capacity since they are what probiotics feed on. Because Culturelle already has inulin present in its formula, the probiotic strain is more likely to thrive. (22)
Best Probiotic Gummies: Olly Probiotic + Prebiotic Gummy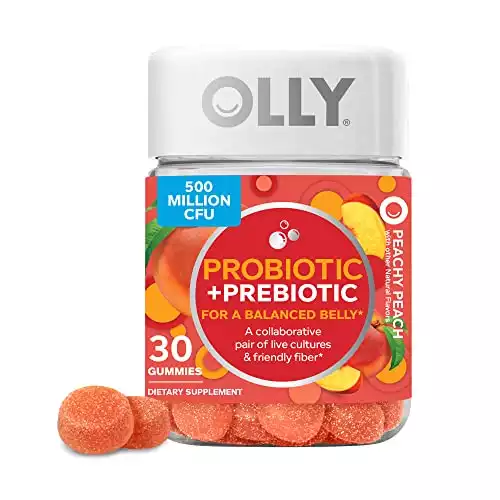 Pros
Most affordable probiotic supplement we have reviewed 
No artificial colors or flavors 
NSF Certified
Cons
Many users report that their Olly product arrived as a melted glob (though Olly ships the Probiotic + Prebiotic Gummy with a cold pack from May through September to decrease melting risk)
Olly Probiotic + Prebiotic comes in a chewable gummy form, which is a great alternative for those who do not want to use capsules or liquids to get their daily dose of probiotics. I have personally had several clients use this gummy and they all report that they enjoy the peach flavor.
Each serving size is only one gummy. Per gummy, plan on receiving 500 million CFU of the Bacillus coagulans strain. This bacteria strain functions as an immune system supporter by decreasing the likelihood that bad bacteria will grow. It also has the ability to create enzymes that help with food digestion and therefore absorption.
Bacillus coagulans has been recommended by scientists to help prevent and treat gastrointestinal diseases such as small intestinal bacterial overgrowth (SIBO), irritable bowel syndrome (IBS), inflammatory bowel disease (IBD), ulcerative colitis, and Crohn's disease. (23)
Within the 1,500-milligram prebiotic blend in Olly Probiotic + Prebiotic Gummy, you will find Fructooligosaccharides (FOS). FOS may decrease the risk of developing chronic diseases such as diabetes and cancer. It can also assist in bowel movement regulation by helping control the balance between constipation and diarrhea. Additionally, FOS may improve mineral absorption in the gut and help decrease the risk of mineral deficiencies — particularly zinc, calcium, iron, and magnesium. (24)
RELATED: AG1 Review
When Is the Best Time to Take a Probiotic?
To get the most out of your probiotic product, routine is key. Making it a part of your everyday schedule will help with remembering to supplement since it is recommended to use probiotics daily for optimal gut health. You will get the most out of your probiotic if you time it around meals. Probiotics are live bacteria organisms and the best way to ensure they make it to your intestines for absorption is to get them through your stomach organ quickly. 
The stomach has a very low pH level and its acidity can destroy the healthy gut bacteria before they have a chance to reach the small intestines. Therefore, taking your probiotic on an empty stomach will help your probiotics survive best. Whether that means right when you wake up or right before you lay down at night will depend on your lifestyle and established routines. However, it is important to keep in mind that some forms of probiotics are meant to be taken with food. Rely on the manufacturer's recommendation when deciding what will work best. 
RELATED: 4 Signs You Are Taking Too Many Probiotics
Benefits of Probiotics
Some of the many benefits of supplementing with probiotics include the following:
May help with weight loss (17)
Can improve macronutrient and micronutrient absorption through healthy digestion (9)
Possibly decrease the risk of developing a vitamin or mineral deficiency (9)
May decrease uncomfortable GI symptoms of bloating, gas, irregular bowel movements, and stomach pain (13)
Possibly decrease malabsorption of nutrients caused by disease (4)
What to Look For in a Probiotic Supplement
It's tempting to go to the store and grab just any probiotic off the shelf. Researching what probiotic supplement will work best to support your health and wellness goals takes a lot of time — something that most of us don't have nowadays. However, the guide below can help you understand what to look for in a probiotic supplement and make your shopping experience less stressful.
Form
Probiotics come in many forms: powder, gummy, capsules, and drinks. Before purchasing, think about what form will lead to your being consistent with taking it. If you routinely drink a morning smoothie, perhaps the powdered, drink, or breakable capsule forms would work best for you. If you have texture aversions or difficulty swallowing, the gummy form may be more suitable than capsules.  
Storage Information
The best way to determine proper storage is to seek the manufacturer's specific recommendations on the product packaging. Proper storage will also vary depending on the form of supplement you choose. For example, gummy-based probiotics are more likely to melt or lose their shape if exposed to warmer temperatures. Some probiotics have to be refrigerated because certain strains may degrade faster if they're not kept cold.
As a general rule, keep your probiotics in a cool, dry area that is free of contamination. Besides the Activia Probiotic Dailies Low Fat Yogurt Drink, the supplements in this review are shelf-stable and do not have to be refrigerated. 
Colony-Forming Units (CFU)
The quantity of CFU present will be an important factor to consider when picking the best probiotic for you. A CFU refers to how many microbiota cells are estimated to proliferate (survive and create more healthy gut bacteria) in a given cell population. The larger the number of CFU per serving, the greater the likelihood of increasing the amount of survivable, good bacteria to your digestive tract. (25)
In my experience with counseling clients, the "perfect amount" of CFU differs from person to person. It is heavily based on the survivability of the bacteria strains — which can be impacted by your diet, genetic predisposition, any malabsorptive diseases, and other factors.
It is important to consider the amount of the supplement it will take for you to achieve your desired CFU count. If your goal is to take in at least 20 billion CFU but a pre-mixed drink only offers 10 billion, you will need to decide if drinking two of those drinks makes sense to you. Some products have a serving size listed as a package but the package itself contains seven capsules. If that amount sounds unreasonable, consider choosing a supplement that only calls for one or two capsules a day. 
Bacterial Strains
Why are you seeking out a probiotic? It could be to help with overall body weight, GI discomfort, or general well-being. Because different strains of bacteria perform different functions, you will need to ensure that the probiotic supplement you choose has strains that can assist you in achieving your health goal. Supplementing with Lactobacillus acidophilus and Bifidobacterium lactis, for example, has been found to reduce stomach distention, relieve GI pain and discomfort, and assist with normalizing bowel movement weight and consistency. (14)(15)
Final Thoughts
Probiotic supplements can be an excellent, affordable way to improve the health of your gut microbiota. Probiotics work fast, and many users report improved gastrointestinal conditions within a few weeks of routine supplementation. Research supports the use of beneficial, live organisms as a way to support your weight loss journey, potentially decrease irritable bowel syndrome symptoms, improve your immune system, and possibly decrease the risk of developing GI-related diseases such as colon cancer. 
Before you pick one, there are many things to consider so that you can best support your health. Our top 10 best probiotics are carefully chosen, vetted for your safety, and well-researched so that you can make a well-informed decision. Utilize this review as a way to choose a probiotic that may best improve your overall health. 
Best Probiotic: Side-by-Side Comparsion
Best Probiotic
Overall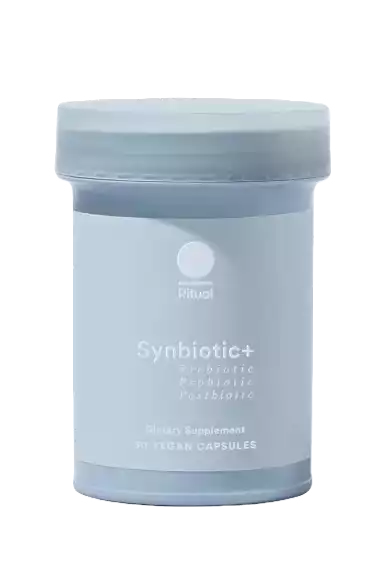 Description:
Number of servings: 30
Cost per serving: $1.80
Form: Delayed-release capsule
Strains: Two
CFU count: 11 billion
Best Probiotic for Women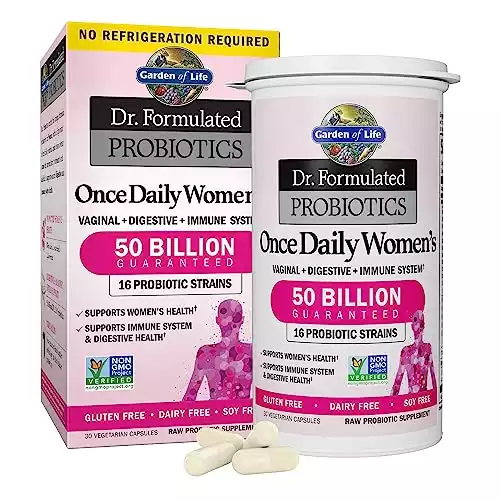 Description:
Number of servings: 30
Cost per serving: $1.00
Form: Vegetarian capsule 
Strains: 16
CFU count: 50 billion
Best Probiotic for
Men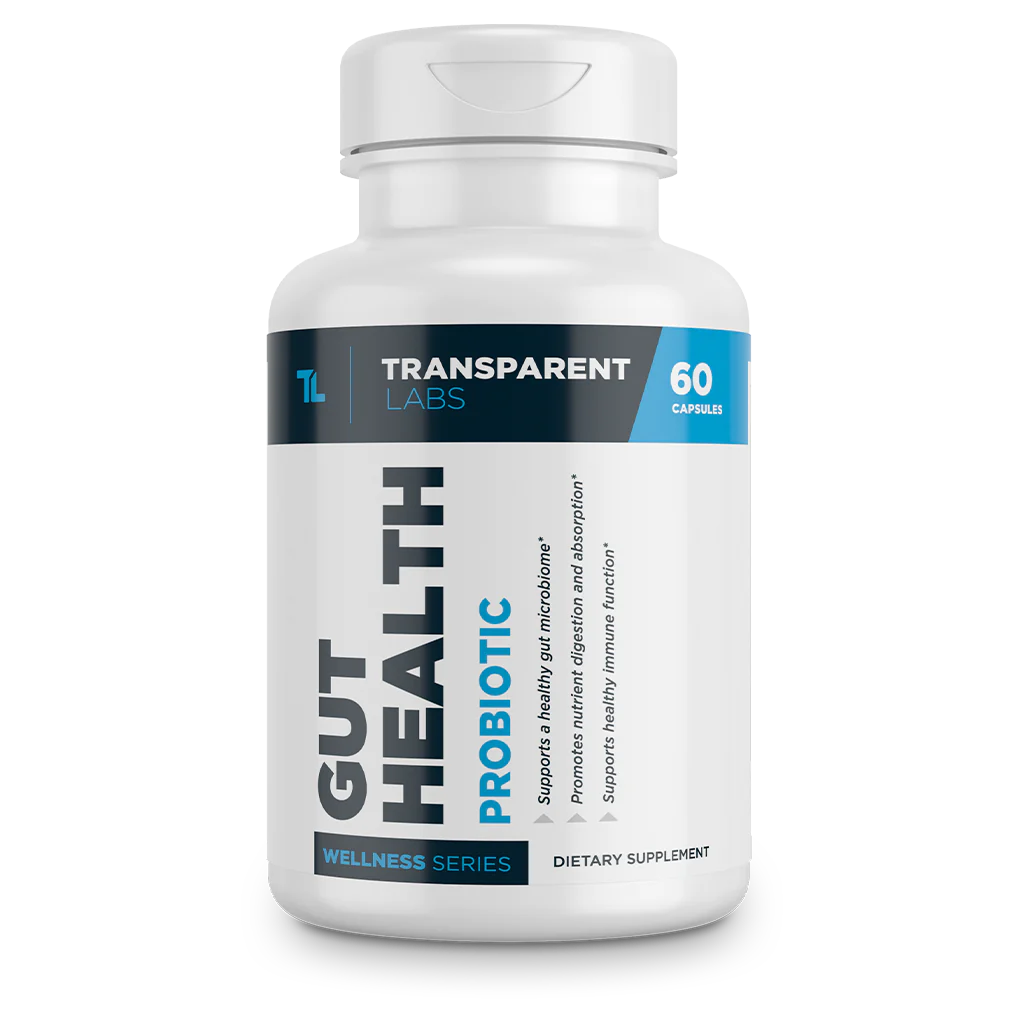 Description:
Number of servings: 30
Cost per serving: $1.53
Form: Capsule 
Strains: 10
CFU count: 100 billion
Best Probiotic for Gut Health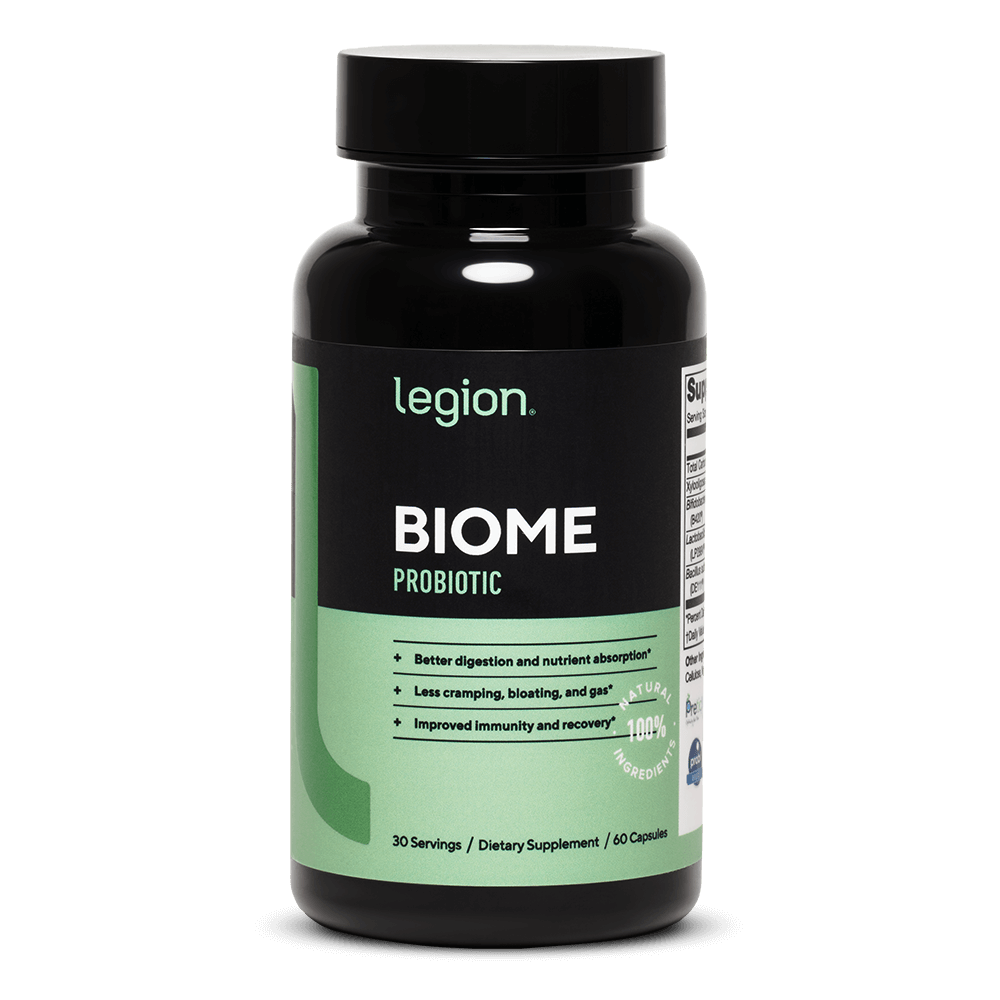 Description:
Number of servings: 30
Cost per serving: $1.67
Form: Capsule
Strains: Three
CFU count: 25 billion
Best Probiotic
Yogurt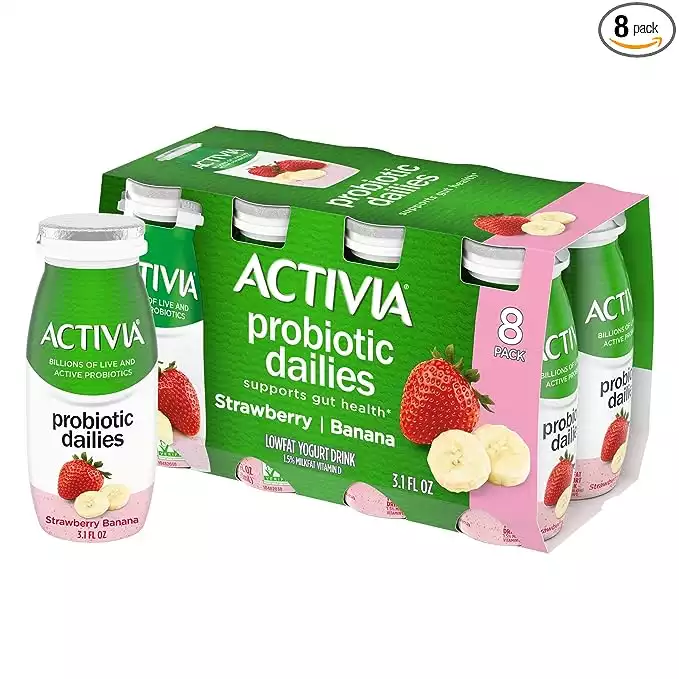 Description:
Number of servings: Eight
Cost per serving: $0.67
Form: Bottled drink 
Strains: Five
CFU count: "Billions"
Best Probiotic
for IBS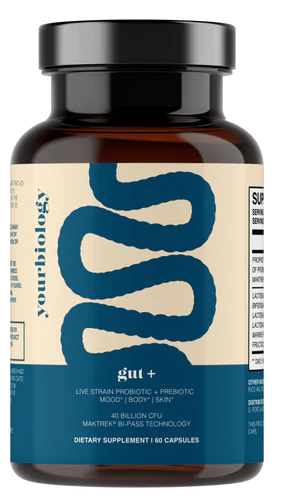 Description:
Number of servings: 30
Cost per serving: $2.17
Form: Capsule
Strains: Four
CFU count: 40 billion
Best Probiotic for Weight Loss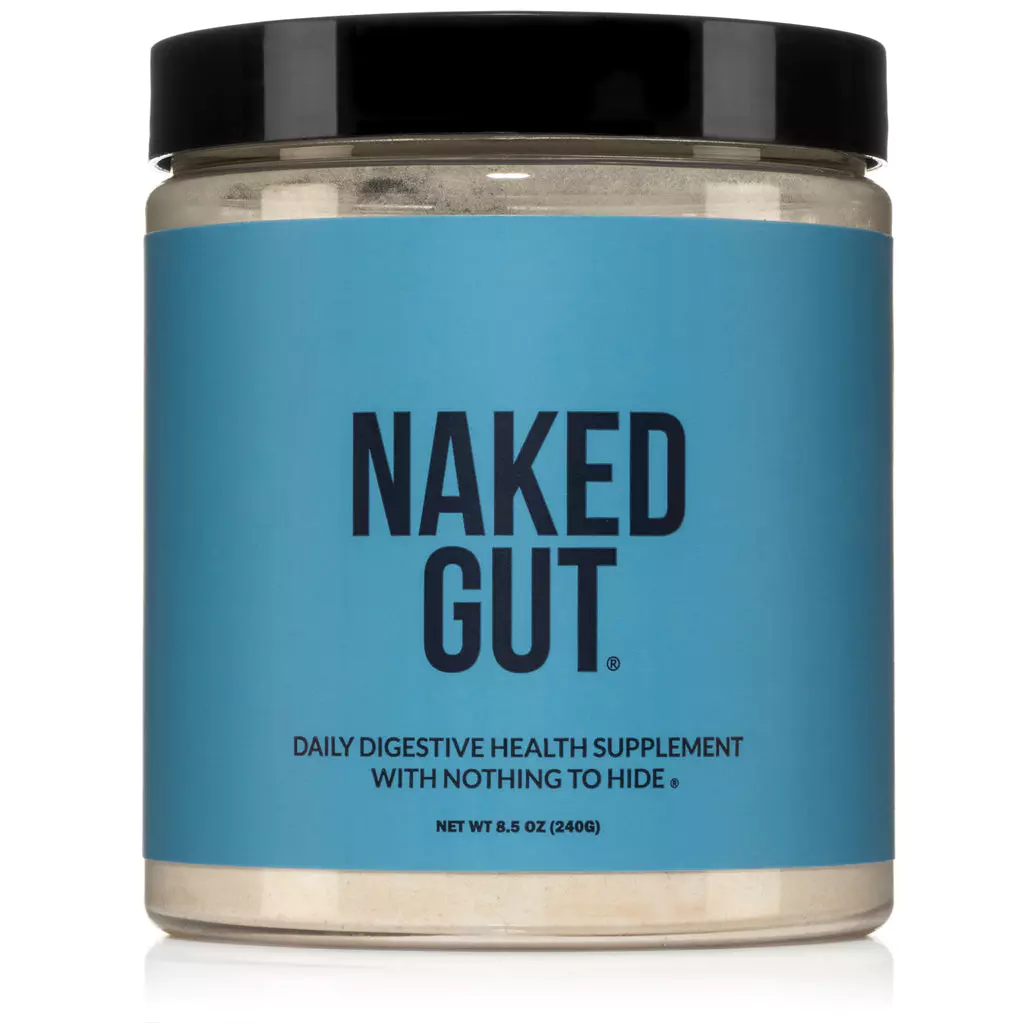 Description:
Number of servings: 40
Cost per serving: $0.62
Form: Digestive powder
Strains: One
CFU count: Five billion
Best Prebiotic and Probiotic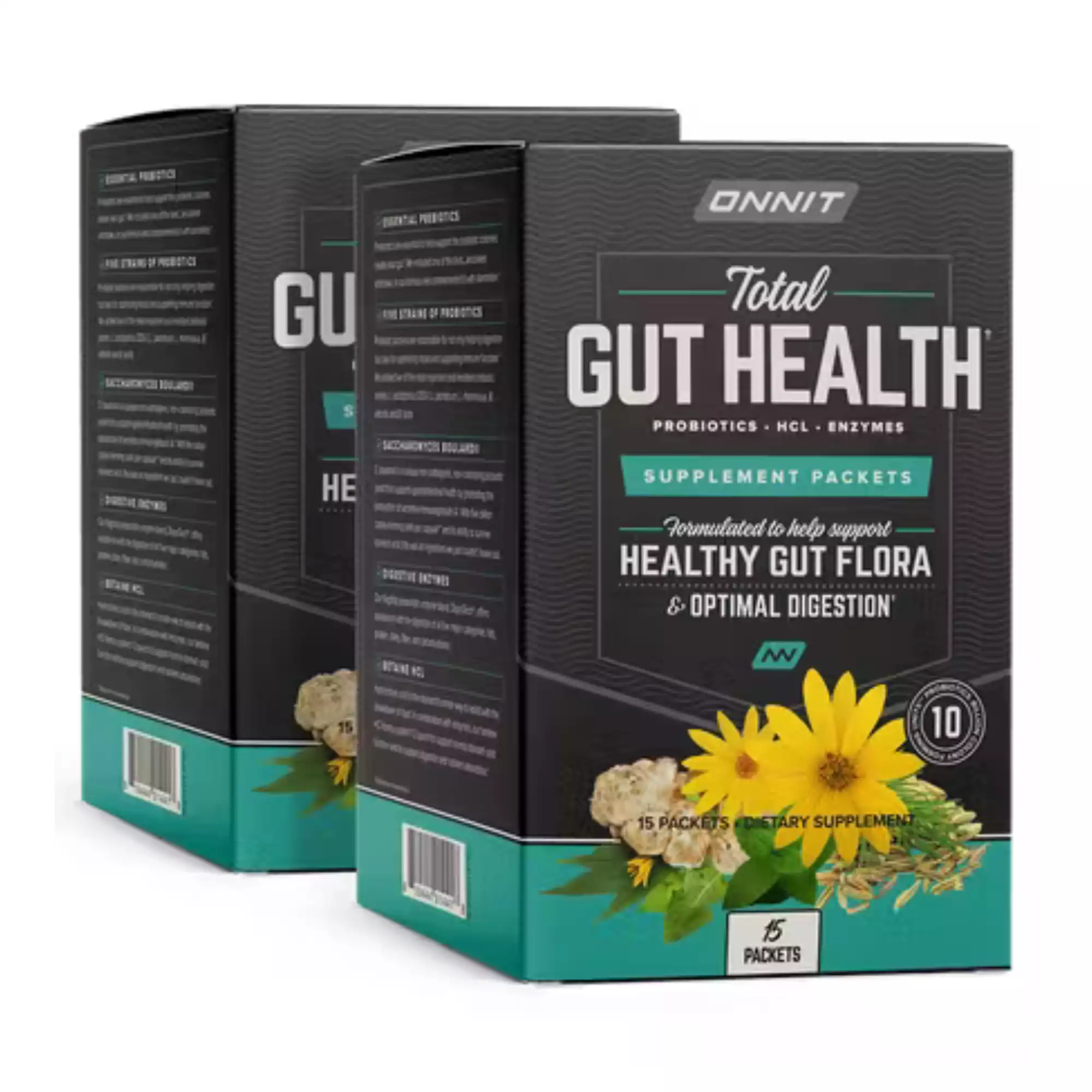 Description:
Number of servings: 15
Cost per serving: $2.53
Form: Vegetarian capsules 
Strains: Five
CFU count: 35 billion
Best Probiotic for Bloating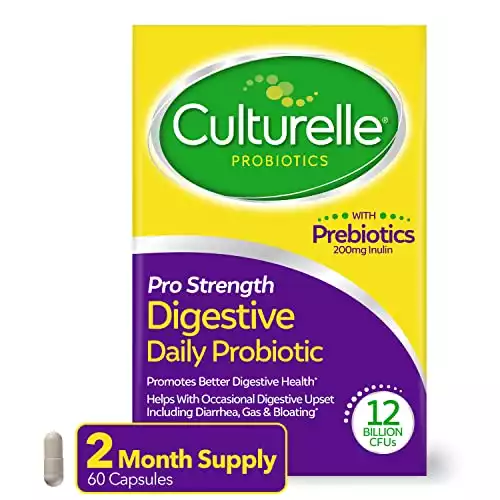 Description:
Number of servings: 60
Cost per serving: $0.52
Form: Capsule 
Strains: One
CFU count: 12 billion
Best Probiotic
Gummies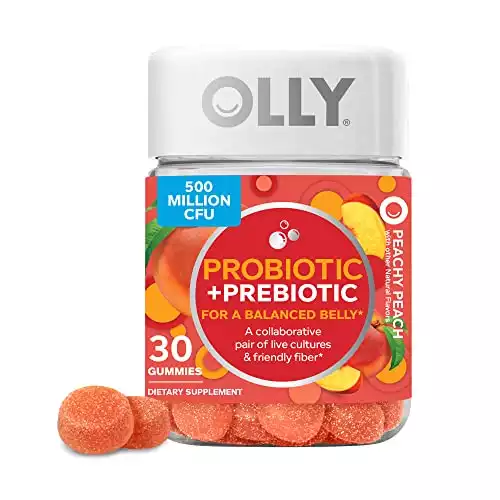 Description:
Number of servings: 30
Cost per serving: $0.40
Form: Gummy 
Strains: One
CFU count: 500 million
FAQs
Which probiotic is best for weight loss?
Weight loss can not be achieved through dietary supplements alone. Safe, sustained weight loss is going to come from appropriate exercise and a balanced whole-food diet. That said, the ingredients found within the low-calorie, low-carb probiotic powder Naked Nutrition Naked Gut have been research-backed to support weight loss in combination with a healthy lifestyle. 
Which probiotic is best for bloating and gas?
YourBiology Gut+ may be the best probiotic supplement for bloating and gas. It only consists of four strains of probiotics, but they were carefully selected to relieve GI discomfort. They are also found in high potency for this product (40 billion CFU per serving), giving the bacteria present a better chance of surviving the low pH of stomach acid to then mobilize as needed in the small and large intestines. 
What is a good probiotic that works?
Depending on your health status, allergies, wellness goals, and any medical conditions, the best probiotic supplement is going to be the one that is individualized to you. But our favorite is Legion Biome. Its ingredients have undergone third-party testing for purity and credibility and can potentially boost your immune system, increase nutrient absorption, reduce intestinal inflammation, and decrease overall GI discomfort. 
Research
Bertazzoni E, Donelli G, Midtvedt T, et al. Probiotics and clinical effects: is the number what counts? Journ of Chemo. 2013;25(4):193-212. doi: 10.1179/1973947813Y.0000000078
Yadav MK, Kumari I, Singh B, et al. Probiotics, prebiotics and synbiotics: Safe options for next-generation therapeutics. Appl Microbiol Biotechnol. 2022;106:505-521. doi: 10.1007/s00253-021-11646-8
Flach J, Van der Waal MB, Kardinaal AFM, Schloesser J, Ruijschop RMAGJ, Claassen E. Yildiz F (Reviewing Editor). Probiotic research priorities for the healthy adult population: A review on the health benefits of Lactobacillus rhamnosus GG and Bifidobacterium animalis subspecies lactis BB-12, Cogent Food & Agriculture. 2018;4(1). doi: 0.1080/23311932.2018.1452839
Van Deuren T, Smolders L, Hartog A, et al. Butyrate and hexanoate-enriched triglycerides increase postprandrial systemic butyrate and hexanoate in men with overweight/obesity: A double-blind placebo-controlled randomized crossover trial. Front in Nutr. 2023;9. doi: 10.3389/fnut.2022.1066950
Petrova MI, Lievens E, Malik S, et al. Lactobacillus species as biomarkers and agents that can promote various aspects of vaginal health. Front in Phys. 2015;6. doi: 10.3389/fphys.2015.00081
Daniele M, Pascual L, Barberis L. Curative effect of the probiotic strain Lactobacillus fermentum L23 in a murine model of vaginal infection by Gardnerella vaginalis. App Microbio. 2014;59(1):93-98. doi: 10.1111/lam.12249
Ciftici G, Tuna E. Effects of cholesterol and Lactobcillus acidophilus on testicular function. Clin Exp Reprod Med. 2021;48(3):229-235. doi: 10.5653/cerm.2020.04322
Fukami H, Ueda T, Matsuoka N. Pharmacokinetic study of compound k in japanese subjects after ingestion of panax ginseng fermented by lactobacillus paracasei a221 reveals significant increase of absorption into blood. Journ of Med Food. 2019:257-263. doi: 10.1089/jmf.2018.4271
Uusitupa HM, Rasinkangas P, Lehtinen MJ, et al. Bifidobacterium animalis subsp. lactis 420 for metabolic health: review of the research. Nutrients. 2020;12(4):892. doi: 10.3390/nu12040892
Freedman KE, Hill JL, Wei Y, et al. Examining the gastrointestinal and immunomodulatory effects of the novel probiotic bacillus subtilis DE111. IJMS. 2021;22(5):2453. doi: 10.3390/ijms22052453
Kaźmierczak-Siedlecka K, Daca A, Folwarski M, et al. The role of Lactobacillus plantarum 299v in supporting treatment of selected diseases. CEJI. 2020;45(4):488-493. doi:10.5114/ceji.2020.101515.
Charoenngam N, Holick MF. Immunologic effects of vitamin d on human health and disease. Nutrients. 2020;12(7):2097. doi: 10.3390/nu12072097
Patel N, Shackelford K. Irritable Bowel Syndrome. Updated Oct 30, 2022. In: StatPearls [Internet]. Treasure Island (FL): StatPearls Publishing; Available from: https://www.ncbi.nlm.nih.gov/books/NBK534810/
Ducrotté P, Sawant P, Jayanthi V. Clinical trial: Lactobacillus plantarum 299v (DSM 9843) improves symptoms of irritable bowel syndrome. World J Gastroenterol. 2012;18(30):4012-4018. doi:10.3748/wjg.v18.i30.4012
Martoni CJ, Srivastava S, Leyer GJ. Lactobacillus acidophilus dds-1 and bifidobacterium lactis uabla-12 improve abdominal pain severity and symptomology in irritable bowel syndrome: randomized controlled trial. Nutrients. 2020;12(2):363. doi: 10.3390/nu12020363
Lewis ED, Antony JM, Crowley DC, et al. Efficacy of lactobacillus paracasei ha-196 and bifidobacterium longum r0175 in alleviating symptoms of irritable bowel syndrome (ibs): a randomized, placebo-controlled study. Nutrients. 2020;12(4):1159. doi: 10.3390/nu12041159
Laviano, A., Molfino, A., Lacaria, M. et al. Glutamine supplementation favors weight loss in nondieting obese female patients. A pilot study. Eur J Clin Nutr. 2014;68:1264–1266. doi: 10.1038/ejcn.2014.184
Yu Q, Zhao J, Xu Z, et al. Inulin from Jerusalem artichoke tubers alleviates hyperlipidemia and increases abundance of bifidobacteria in the intestines of hyperlipidemic mice. Journ of Funct Foods. 2018;40:187-196. doi: 10.1016/j.jff.2017.11.010
Guilliams TG, Drake LE. Meal-time supplementation with betaine hcl for functional hypochlorhydria: what is the evidence. Integr Med. 2020;19(1):32-36. 
Zhang Q, Han Y, Xiao H. Microbial α-amylase: A biomolecular overview. Proc Biochem. 2017;53:88-101. doi: 10..1016/j.procbio.2016.11.012
Yoon JS, Sohn W, Lee OY, et al. Probiotics in irritable bowel syndrome. J Gastroenterol Hepatol. 2014;29:52-59. doi: 10.1111/jgh.12322
Teferra TF. Possible actions of inulin as prebiotic polysaccharide: A review. Food Front. 2021;2:407-416. doi: 10.1002/fft2.92
Cao J, Yu Z, Liu W, et al. Probiotic characteristics of Bacillus coagulans and associated implications for human health and diseases. Journ of Funct Foods. 2020;64:103643. doi: 10.1016/j.jff.2019.103643
Kherade M, Solanke S, Tawar M, et al. Fructooligosaccharides: A comprehensive review. JAHM. 2021;7(3)193-200. doi: 10.31254/jahm.2021.7305
Stachura DL, Traver D. Chapter 4 – Cellular dissection of zebrafish hematopoiesis: enumeration of colony forming units (CFUs), Methods in Cell Biology. 2011;101:75-110. doi: 10.1016/B978-0-12-387036-0.00004-9
#Probiotic #Supplements #Registered #Dietitian